Stereomicroscope enables intuitive operation.
Press Release Summary: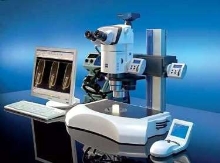 SteREO Discovery.V12 focuses in steps up to 350 nm over range of 340 nm. It includes 250 x 410 mm scratchproof stage plate, LED illumination, Ergo-phototube, specimen protection, and 3-position nosepiece. AxioVision 4.3 software turns unit into imaging system with integrated microscope control, image recording, processing, analysis, management, and archiving. Designed as computer mouse, SyCoP Control combines major control functions, such as zoom, focus, contrast, and illumination.
---
Original Press Release:

New SteREO Discovery.V12 Stereomicroscope for Materials Microscopy


Thornwood, NY - Carl Zeiss is pleased to introduce a SteREO Discovery.V12. This stereomicroscope represents a totally new instrument concept in stereomicroscopy with many unique features designed for convenience, ease of use and unparalleled stability and image quality. Considerably more image information is obtained through new optical design that offers high-contrast images with excellent color reproduction, depth of field, high resolution and unparalleled 3D brilliance.

SyCoP (System Control Panel) is an entirely new concept in stereomicroscopy. Designed as a computer mouse it combines all of the major control functions of the stereomicroscope, such as zoom, focus, contrast and illumination. It also supplies current data on object field, resolution and depth of focus. For the first time, it is possible to operate the microscope intuitively, fast and error-free without any need for the users to lift their eyes from the microscope. Calling up complex instrument settings at the push of a button saves time and provides additional safety.

The new stand design allows focusing in steps of up to 350 nm over a wide range of 340 nm. It ensures highest precision and stability.

Furthermore, a scratchproof stage plate (250 mm x 410 mm) provides ample space in the object area. In addition, SteREO Discovery.V12 offers a new LED illumination and contrasting systems, Ergo-phototube, specimen protection, 3-position nosepiece, and a light and focus speed manager. These are only a few of the many innovative solutions of this new stereomicroscope for the materials sciences.

The AxioVision 4.3 software turns the SteREO Discovery.V12 into a complete imaging system with integrated microscope control, image recording, processing, analysis, management and archiving.

For more information contact Carl Zeiss MicroImaging, Inc., Thornwood, NY 10594, 800-233-2343, www.zeiss.com/micro, or email at micro@zeiss.com

Carl Zeiss is a leading international group of companies operating worldwide in the optical and opto-electronic industry. Carl Zeiss AG is headquartered in Oberkochen, Germany. The Carl Zeiss Group consists of six business units that operate with sole responsibility. They are generally ranked first or second in the three strategic markets of biomedical research and medical technology, system solutions for semiconductor, automotive and mechanical engineering industries, and optical consumer goods such as eyeglass lenses, camera lenses and binoculars.

The Carl Zeiss Group is directly represented in more than 30 countries and operates production facilities in Europe, America and Asia. In fiscal year 2003/04 the global workforce of approximately 13,700 employees generated revenue of about EUR 2.1 billion.

Further information is available at www.zeiss.com

Barbara Colleen Feeney
Carl Zeiss MicroImaging, Inc.
Marketing Services
914-681-7752
bfeeney@zeiss.com

More from Communication Systems & Equipment