Stereolithography Material offers high stiffness.
Press Release Summary: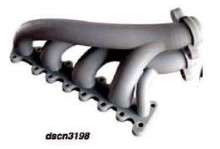 Incorporating non-crystalline, nano-particle technology, NanoForm(TM) 15120 offers heat deflection temperatures of more than 500°F. It is processed in identical manner to unreinforced liquid SL resins, requiring no mixing or other special handling. High temperature and hardness properties make resin useful for rapid prototyping applications.
---
Original Press Release:
DSM Somos® Announces Full Commercialization of NanoForm(TM) 15120 After Successful Global Beta Testing
New Castle, Delaware, November 1, 2004-DSM Somos has announced the full commercialization of NanoForm(TM) 15120 after nearly one year of successful, comprehensive beta testing by a variety of industries and stereolithography (SL) service bureaus worldwide. NanoForm 15120 is a composite stereolithography material which incorporates non-crystalline nano-particle technology for enhanced performance properties, including exceptionally high stiffness and heat resistance. Heat deflection temperatures of more than 500°F (265°C) have been reported. "The composite technology of NanoForm contributes to exceptional dimensional stability, low shrink, and low coefficient of thermal linear expansion," says DSM Somos Application Development & Technical Service Manager Matt Cantwell. "This material offers a unique alternative to previous stereolithography and selective laser sintering solutions available on the market. It is processed in an identical manner to unreinforced liquid SL resins, requiring no mixing or other special handling." NanoForm was first introduced at the Frankfurt Euromold fair in December 2003. "Since that time, numerous companies have been successfully implementing it into their material offerings for medical, automotive and aerospace applications," states DSM Somos Marketing and Sales Manager Ty Bacon. Marc Lesko, Rapid Prototyping Product Designer for ConvaTec (leader in ostomy and wound care products) says, "I've successfully used the Nanoform resin to produce vacuum form molds and lab test fixtures. Its high temperature and hardness properties make it very useful for rapid prototyping and this resin has helped to speed the development process." For more information about NanoForm(TM) 15120, including a recently updated product data sheet, log on to dsmsomos.com About DSM Somos® DSM Somos is currently the world's second largest materials supplier to the rapid prototyping industry, providing stereolithography liquids and selective laser sintering powders used for the creation of three-dimensional models and prototypes directly from digital data. Somos' patented ProtoFunctional® materials are used by a variety of industries, including automotive, aerospace, medical and telecommunications. Somos' corporate office is located at: 2 Penn's Way, New Castle, DE 19720, USA, Tel. +1-302-326-8100, For more information on DSM Somos® in Europe: Fax. +39 06 9871694, DSM Somos is an unincorporated division of DSM Desotech-a world leader in the development of UV-curable materials-and a member of the global DSM family. More information about the companies can be found at dsmsomos.com and dsmdesotech.com . About DSM DSM is active worldwide in life science and nutritional products, performance materials and industrial chemicals. The company specializes in innovative products and services that help improve the quality of life and DSM products are currently used in a wide range of end markets and applications such as human and animal nutrition and health, cosmetics, pharmaceuticals, automotive and transport, coatings, housing and electrics & electronics (E&E). The group has annual sales (pro forma including the recent acquisition - renamed DSM Nutritional Products) of approximately EUR 8 billion and employs about 26,000 people around the world. Ranking among the global leaders in many of its fields, DSM is headquartered in the Netherlands, with locations in Europe, Asia and the Americas. More information about DSM can be found at dsm.com About DSM Somos® Materials What is stereolithography? Stereolithography (SL) permits the rapid creation of 3D pieces utilizing a computer-controlled laser that polymerizes light-sensitive resins. The process is highly precise and constructs the object in a series of "additive layers," providing the advantage of producing highly complex forms that are difficult or impossible to fabricate by machining or traditional molding techniques. The evolution of advanced SL materials offers the potential of moving stereolithography from prototyping into production. DSM Somos ProtoComposites(TM) are resins reinforced with various materials, such as ceramics and glasses, to produce functional properties not possible using individual components. DSM Somos ProtoComposite materials are a result of a significant research and development program investigating the potential for ACT-SL(TM) (Advanced Composite Technology for StereoLithography). DSM Somos ProtoFunctional® resins for stereolithography provide advanced technology to respond to the changing needs of new product development and industrial design. In 2003, DSM Somos announced ProtoTool(TM) ceramic-filled resins, the first member belonging to the new ACT-SL(TM) technology and the result of a significant research and development program. Traditional non-composite ProtoFunctional materials by DSM Somos satisfy a varying range of character-istics: transparency, superior humidity and heat resistance, and outstanding mechanical prop-erties, replicating those of many production grade plastics such as polypropylene, polyethylene, ABS and PBT. Technical data on all Somos® materials may be found at dsmsomos.com
More from Computer Hardware & Peripherals