Stereo Microscopes feature built-in PLED ring light.
Press Release Summary: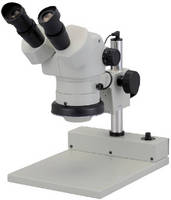 Available in 5 models, Stereo Microscopes feature 10x wide-field eyepieces, pole stand, 8.6 x 11 in. base, and multi-coated optical components that assure no chromatic or spherical aberrations. Trinocular Model DSZV-44 has 10 in. viewing monitor and 10-44x magnification range, while trinocular Model SPZT-50 provides 6.7-50x magnification. Three binocular models are available with magnifications of 6.7-50x, 10-44x, and 10-30x, respectively. Magnifications can be extended with auxiliary lenses.
---
Original Press Release:

Aven Adds 5 Stereo Scopes with High-Efficiency Ring Lights



Five specialized models are added to lines of Aven Stereo Microscopes developed for medical, scientific, industrial and education applications.

Each has a built-in LED ring light, 10x wide-field eyepieces and a pole stand. An attached monitor accompanies one trinocular zoom scope.

Four of the trinocular and binocular choices have zoom capability. All feature multi-coated optical components that assure no chromatic and spherical aberrations. A base measuring 220 mm by 284 mm (8.6 by 11 inches) accommodates large parts.

"These advanced systems are precise, reliable and adaptable for varied operations in high-volume workplaces," says Mike Shahpurwala, president of Aven, a global supplier of optical instruments.

Users include professionals in biotechnology, nanotechnology, health care, pharmaceuticals, aerospace, semiconductors, chemical manufacturing, forensics, materials analysis and other scientific microscopy.

The new models have PLED ring lights, which use polymer light emitting diode technology for high brightness at low voltage, with lifetimes up to 30,000 hours.

Aven microscopes are manufactured exclusively for the Michigan-based supplier by Carton Optical Industries, Ltd., of Japan, which also is a leading maker of telescopes, binoculars and ophthalmic instruments.

These summaries describe each new Aven Stereo Zoom Microscope:

Trinocular model DSZV-44 has a 10-inch viewing monitor that displays clear, high-resolution images at eye level. Magnification range is 10x to 44x, or up to 140x with an optional lens. Eyepiece viewing tube is inclined at 45 degrees and the zoom ratio is 4.4:1. Couplers allow easy addition of a 1/3" or 1/2" chip camera.

Trinocular model SPZT-50 also has an inclined eyepiece tube. Magnification is 6.7x to 50x, or as high as 200x with the largest of three auxiliary lenses. Zoom ratio is 7.46:1.

Binocular model SPZ-50 offers the same magnification and zoom ratio as above.

Binocular model DSZ-44 provides 10x to 44x magnification, or up to 140x with an optional lens. Zoom ratio is 4.4:1.

Binocular model NSW-30 features 10x and 30x magnification or greater with two add-on lens choices.

All units include illumination, stand, dust cover, rubber eye guards and tension control pin. Auxiliary lenses and eyepieces are available.

These additions expand a stereo microscopy line with 14 other zoom models and five standard versions. Aven also configures custom systems with a camera, monitor articulating arm or boom stand.

For more information, call Aven at (734) 973-0099. A digital catalog is at www.aventools.com.

More from Architectural & Civil Engineering Products