Stereo Audio Amplifier features transparent mute function.
Press Release Summary: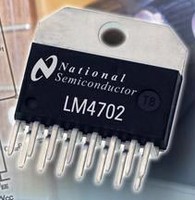 Available in 3 grades, LM4702 has output-power stage design that is scalable over power levels and applications from 50 W AV receivers to 500 W amplifiers. This 200 V stereo driver has integrated power amplifier driver and is designed to drive high-power discrete transistors, or Darlington pairs, in systems delivering 25-300 W per channel. Monolithic, output stage driver has integral thermal protection scheme that activates when die temperature exceeds 150°C.
---
Original Press Release:

National Semiconductor Debuts Industry's First Integrated, 200V Stereo Driver



First Member of New High-Performance Audio Family Delivers Wide Supply Range and Mute Function for Consumer and Professional Audio Applications

SANTA CLARA, Calif., Sept. 19 -- National Semiconductor Corporation (NYSE:NSM) today introduced the industry's first integrated, 200V stereo driver for high-power amplifiers. The LM4702, the first member of the new high-performance audio family, is available in three grades, all with mute functions, to suit a variety of demanding consumer and professional audio applications.

The LM4702 is a monolithic, output stage driver optimized for high supply voltages. Its three grades differ by operating voltage level, performance specification and guarantee. The LM4702C targets high-volume applications, such as stereo systems and audio/visual (AV) receivers. The LM4702B includes a higher voltage rating of plus and minus 20V to 100V, along with tighter specifications, for high-end audio, guitar amplifiers, professional audio amplifiers and high-fidelity-powered speakers. For ultra-high-end consumer and professional audio, the LM4702A is fully specified, with all limits tested and guaranteed over voltage and temperature from plus and minus 20V to 100V. It is offered in a military 883-compliant, gold-plated TO-3 package.

Easier Power Amplifier Designs

The LM4702's completely integrated power amplifier driver eliminates the need to design a discrete amplifier, often a time-intensive part of a power amplifier project. This allows the designer to focus on the output-power stage design that is scalable over a wide range of power levels and applications ranging from 50W AV receivers to 500W amplifiers. In addition to saving design time, the LM4702 saves board space by eliminating many equivalent high-voltage discrete components.

While a single LM4702 replaces a stereo pair of discrete drivers, multiple LM4702s can be used for multi-channel surround-sound applications. Since the LM4702 has an extremely high operating voltage, low-cost, unregulated power supplies can be used while still maintaining adequate voltage headroom in high-line conditions.

Key Technical Features

National's LM4702 is a stereo audio amplifier driver designed to drive high-power discrete transistors, or Darlington pairs, in systems delivering 25W per channel to more than 300W per channel. When implemented in a complete amplifier as shown in reference design AN-1490 (http://www.national.com/an/AN/AN-1490.pdf ), the total harmonic distortion plus noise (THD+N) is 0.0006 percent into an 8-Ohm load. The amplifier's output power is scaled by changing the supply voltage and corresponding output power transistors. For higher current and power levels, the output transistors can be configured in parallel without changing the basic LM4702 driver circuit.

To prevent long-term thermal stress, the LM4702 has a sophisticated thermal protection scheme that is activated when the die temperature exceeds 150 degrees C. The driver's transparent, no-click, no-pop mute function forces the amplifier output into a quiescent state, saving power.

Innovative Process Technology

National engineers developed the LM4702 using a proprietary process technology. The high-voltage, high-performance, complementary bipolar technology, with vertically integrated NPN and PNP transistors, enables larger peak-to-peak output voltage swings that are well-suited for high-voltage requirements in high-end audio applications.

Pricing and Availability

Available now in a 15-lead TO-220 package, the LM4702C is priced at $4.50 in 1,000-unit quantities. The LM4702B is priced at $24.95 in 100-unit quantities. The LM4702A is priced at $150 in 25-unit quantities and will be available by January 2007. More information, easy-to-order samples and an evaluation board are available at www.national.com/pf/LM/LM4702.html .

About National's Audio Portfolio

National Semiconductor has been a leading provider of audio solutions for more than 30 years and offers a wide range of products in its Boomer(R), Overture(R) and high-performance audio lines. National works with every major handset maker in the world and is the leading provider of analog audio solutions for the cell phone market. The company's line of Boomer audio amplifiers and subsystems enhance and enrich the entire range of sound - from voice, ring sounds and music - that can be amplified in mobile phones and other portable equipment. National manufactures Class AB and Class D speaker amplifiers, headphone amplifiers and audio subsystems for many applications ranging from portable devices to high-power, high-fidelity audio systems. The company offers its higher-power Overture amplifiers for mid-performance consumer applications, and National's new high-performance series brings dramatically improved sound quality to high-fidelity consumer and professional audio equipment. For more information on National's audio products, visit audio.national.com.

About National Semiconductor

National Semiconductor, the industry's premier analog company, creates high-value analog devices and subsystems. National's leading-edge products include power management circuits, display drivers, audio and operational amplifiers, interface products and data conversion solutions. National's key analog markets include wireless handsets, displays and a variety of broad electronics markets, including medical, automotive, industrial, and test and measurement applications. Headquartered in Santa Clara, Calif., National reported sales of $2.16 billion for fiscal 2006, which ended May 28, 2006. Additional company and product information is available at www.national.com.

NOTE: Boomer and Overture are registered trademarks of National Semiconductor Corporation.

More from Adhesives & Sealants