Stepping Motors and Drivers include built-in controller.
Press Release Summary: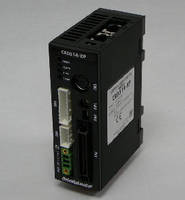 Offering output torque from 3.2-35 lb-in., CRK Series 5-Phase Stepping Motors come in standard and high-resolution versions with resolutions up to 0.00288°/step and 0.00144°/step, respectively. Built-in RS-485 compatible controller packages allow for up to 16 axes to be controlled from one RS-485 Master controller. Five network communications rates up to 115,000 bps can be selected. Accepting 24 Vdc input, drivers/controllers match 0.79, 1.10, 1.65, and 2.36 in. sq. motor frame sizes.
---
Original Press Release:

Five Phase Stepping Motor and Driver/Controller Systems



RS-485 based Driver/Controller for Storing Motion Programs

Torrance, CA - October 1, 2009 - ORIENTAL MOTOR USA CORP. announces the release of the CRK Series of 5-Phase stepping motors and drivers with a built-in RS-485 compatible controller packages that offer motion that is smooth, quiet and accurate. The RS-485 based controller allows for up to 16 axes to be controlled from one RS-485 Master controller. Five network communications rates of up to 115,000 BPS can be selected. Connection to the network is simple to achieve via conveniently located RJ-45 connectors. The controller can be operated in either direct command mode, stand alone mode or by selecting stored programs to run via I/O. Programming is done via simple ASCII commands that can be sent to the controller via any basic PC based terminal program or PLC device.

This CRK Series utilizes Oriental Motors' 5-Phase microstepping technology that delivers smooth, quiet and accurate motion. The standard series motors offer step resolutions up to 0.00288°/step with excellent step accuracy of 3 Arc Min (0.05°). With the High resolution models, even greater step resolutions of up to 0.00144°/step and step accuracy of 2 Arc Min (0.034°) are achieved.

The CRK Series drivers/controllers accept 24 VDC input with motor frame sizes of 0.79" sq., 1.10" sq., 1.65" and sq., 2.36" sq. All of the motor frame sizes are available with either a standard or rear shaft and a geared model is also available. Output torque from the different models ranges from 3.2 oz-in for the 0.79" sq. standard shaft motor up to 35 lb-in for a 2.36" sq. geared motor. Shaft speeds of up to 4000+ rpm can be achieved on some models. The compact driver measures 1.37" W x 2.75" D x 3.97" H.

Oriental Motor is a world leader in the manufacturing of sub-fractional horsepower AC induction and reversible motors, 2 and 5-phase stepping motor, driver and controller systems, AC and DC speed control motor systems, electric linear and rotary actuators, and cooling fans. More than 1500 of our over 10,000 standard products are available for same day delivery to our users in many diverse industries.

For more information, for general public:

Technical Support, 800-468-3982, techsupport@orientalmotor.com

For more information, for technical contact:

Technical Support, 800-468-3982, techsupport@orientalmotor.com

For more information on the AR Series, visit:
http://orientalmotor.com/products/ac-dc-step-motors/5-phase-microstep-CRK-Stored-Program-Controller-home.html#lineup

More from Controls & Controllers