Stepping Motor Driver can run 2 motors simultaneously.
Press Release Summary: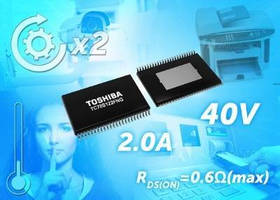 With 2-channel drive function, Model TC78S122FNG can run 2 stepping motors independently in high-voltage, low-power MOS process. Bipolar IC also provides interface for driving brushed DC motors, enabling use of stepping motors and brushed DC motors together in 6 combinations. Channels can be paralleled to double power handling. Housed in HTSSOP package with max ratings of 40 V and 2 A, device offers singe-, half-, and quarter-step driving capability for torque-speed tradeoff flexibility.
---
Original Press Release:

Toshiba Unveils Bipolar Two-Channel Stepping Motor Driver



Driver features maximum ratings of 40V and 2.0A, can run two stepping motors independently



SAN JOSE, Calif., – Toshiba America Electronic Components, Inc. (TAEC)*, a committed leader that collaborates with technology companies to create breakthrough designs, today introduced the newest addition to its broad selection of motor drivers. The TC78S122FNG is a multi-configurable bipolar stepping motor driver with a two-channel drive function, enabling it to run two stepping motors independently in a high-voltage, low-power MOS process.



A high-speed, highly efficient, and multi-stepper or brushed DC motor controllable driver is desirable for use in such applications as printers, surveillance cameras, office automation equipment, banking terminals (including ATMs and banknote identification machines) and home appliances. In parallel, end-product form factor is continually shrinking in response to the trend toward miniaturization, and there's a growing need to reduce both heat generated within equipment and overall power consumed per unit.



Deepak Mithani, senior director, Mixed-Signal Business Unit, System LSI Group at TAEC, noted, "The heat generated by the ICs themselves prevented previous products from achieving continuous operation in the driving current range of 1.5A motors used in a wide range of equipment. Our new product can simultaneously drive two channels by cutting output resistance in half (1), which, in turn, significantly reduces heat generation."



In addition to driving stepping motors, the TC78S122FNG provides an interface for driving brushed DC motors. This enables the use of stepping motors and brushed DC motors together in six combinations. These include two 1.5A stepping motors, one 1.5A stepping motor with two 2.0A brushed DC motors, or four 2.0A brushed DC motors. The channels can also be paralleled to double the power handling; thus, the TC78S122FNG can be used to drive one 3.0A stepping motor or two 4.0A brushed DC motors.



The TC78S122FNG stepper motor driving function offers single-, half-, or quarter-step driving capability for various torque-speed tradeoff flexibility. With its built-in sleep function, the new product can stop the regulator circuit for the IC's internal logic at stand-by, allowing it to consume microamps of standby power. The new product also incorporates thermal shutdown and overcurrent shutdown circuits that can enhance equipment safety and reliability.



Integrated in a space-saving two-in-one chip, the TC78S122FNG offers maximum voltage of 40V in a HTSSOP package. Thermal management of the equipment and the module can be simplified by adopting the small, high-thermal-conductivity HTSSOP package, contributing to reduced IC size and cost. Toshiba also plans to release the IC in an even more compact QFN package later this year.



Availability

Samples of the TC78S122FNG stepping motor driver have begun shipping. Mass production is scheduled to begin in July 2016.



1. Compared with Toshiba's previous product, TB62212.



*About TAEC

Through proven commitment, lasting relationships and advanced, reliable electronic components, Toshiba enables its customers to create market-leading designs. Toshiba is the heartbeat within product breakthroughs from OEMs, ODMs, CMs, VARs, distributors and fabless chip companies worldwide.  A committed electronic components leader, Toshiba designs and manufactures high-quality flash memory-based storage solutions, solid state drives (SSDs), hard disk drives (HDDs), solid state hybrid drives (SSHDs), discrete devices, custom SoCs/ASICs, imaging products, microcontrollers, wireless components, mobile peripheral devices, advanced materials and medical tubes that make possible today's leading smartphones, tablets, cameras, medical devices, automotive electronics, industrial applications, enterprise solutions and more.



Toshiba America Electronic Components, Inc. is an independent operating company owned by Toshiba America, Inc., a subsidiary of Toshiba Corporation, Japan's largest semiconductor, solid state drive and hard disk drive manufacturer and the world's seventh largest semiconductor manufacturer (Gartner, 2015 Worldwide Semiconductor Revenue, January, 2016). Founded in Tokyo in 1875, Toshiba is at the heart of a global network of over 580 consolidated companies employing over 199,000 people worldwide. Visit Toshiba's web site at http://toshiba.semicon-storage.com.



© 2016 Toshiba America Electronic Components, Inc. All rights reserved. Information in this press release, including product pricing and specifications, content of services and contact information, is current and believed to be accurate on the date of the announcement, but is subject to change without prior notice.  Technical and application information contained here is subject to the most recent applicable Toshiba product specifications.



COMPANY CONTACT:

Deborah Chalmers

Toshiba America Electronic Components, Inc.

Tel.: (408) 526-2454

deborah.chalmers@taec.toshiba.com 



Web Site: http://www.toshiba.semicon-storage.com

More from Computer Hardware & Peripherals