Stepper Motors have integral fail-safe brakes.
Press Release Summary: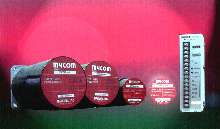 Brakes, coupled to 5-Phase AM Stepper motors, stop heavy loads rapidly and hold them stationary in case of power failure. Holding torque ranges from 41.66 to 138.87 oz-in. Brakes are part of NEMA-size 23 or metric-size 34 package, with dielectric strength sufficient to withstand 0.5 kV at 50 Hz, insulation resistance of 100 Mohms or better, with 500 V potential applied between motor windings and frame, and operating temperature of 0 to 50°C.
---
Original Press Release:

NYDEN Announces its AM Series. Enhanced Economical Electromagnetic Brake Motors!


San Jose, CA-Designed specifically for heavy-duty loads to be stopped rapidly or held stationary, NYDEN CORPORATION offers a comprehensive selection of enhanced integral fail-safe electromagnetic brakes coupled to our 5-Phase Steppers. To prevent system wear-and-tear and to perform applications where the load must be held for emergency safety reasons such as power failure, NYDEN's AM brake motor is also the most effective device in the elimination of motor heat damage and build-up during standstill period or with current OFF function of the driver. Key enhancements are achieved by creating a more effective interior friction disc lining and by promoting a smoother brake force when the product's coil and spring impel the motor shaft to stop the motor and load instantly or in a pre-determined time. Furthermore, these improvements will adapt to fulfill safety laws already being proposed by nationwide product safety testing companies. In order to prevent both machinery breakdown and human accidents, engineering and manufacturing companies worldwide will soon need to employ an effective control-stop mechanism when operating any high inertial loads and company-designed machinery.

Part of a 5-Phase motor-driver package to ensure optimum running performance of an industry standard Nema-size 23 or Metric-size 34 stepper, NYDEN's low-cost electromagnetic brakes can be used to gain additional static holding torque. The package features maximum motor torque ranging from 51.4 Oz-in (size 23) to 527 Oz-in (Size 34). Brake holding torque ranges from 41.66 Oz-in to 138.87 Oz-in. A fast brake activation time of 35 milliseconds or less and brake release time of 50 milliseconds or less grant users the most effective control mechanism toward designing a variety of electrical and mechanical applications including packaging equipment, conveyors, semiconductor & wafer-fabricating systems, fiber optic test equipment, delicate medical systems, machine-building control systems, machining devices, material handling equipment and robotics.

Durable springs centered within the brakes assist the motor's smooth operation on all types of loads. This is due to the fastening between the spring and brake linings being activated when system operation is launched. When ON, designer experiences virtually no low RPM vibration.

Further performance characteristics of NYDEN's AM brake motors include: dielectric strength sufficient to withstand 0.5KV at 50Hz between the motor windings and frame for one minute, a high insulation resistance of 100M ohms or better with 500V potential applied between motor windings and frame, and operating environment temperature ranging from 0°C ~ +50°C. Furthermore, NYDEN's newly enhanced electromagnetic brake motors are available in a variety of lead wire termination sizes for flexible design applications.

NYDEN CORPORATION, located in San Jose, California, is the R&D and sales headquarters for MYCOM, INC. The company's unique approach to customer service success is achieved by the support of thousands of engineers and end-users worldwide. A multi-million dollar company, NYDEN is proud to carry MYCOM's patented 5-Phase STAR Driver Stepping Systems, a series of low-cost 5-Phase stepper motors and drivers that offer increased true resolution with virtually no low speed resonance problems. The company is also the first to design the world's highest Nano-type 5-Phase Series. The NanoDrive(TM) offers users true resolution of over 500,000 steps per revolution for the highest accuracy and lowest vibration possible.

NYDEN CORPORATION supplies a new generation of motion control systems geared for every type of application. We offer 5-phase & 2-phase stepper motors with matching drivers, customized multi-axis programmable stand-alone controllers for steppers and digital servos, ISA and PCI-Bus motion controller cards, and a variety of motion-related accessories. We also work as contractors toward the design of our customers' most fundamental motion control-related application.

For a copy of NYDEN's full color motion control engineer's guide, contact Mr. Roger O'Tate Sullivan at 408-232-7700, or for more information, please look us up at www.NYDEN.com.


More from Electrical Equipment & Systems