Stepper Motor Controller is IP20-rated.
Press Release Summary: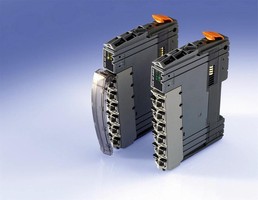 Designed for X20 controller and I/O system, X20 stepper motor controller features 4 inputs for end switches/encoders, and automatic motor detection when booting and stall detection that identifies overload situations or any unwanted blocking of motor. Stepper motor connections can resolve each full step into up to 256 microsteps. Offering integration with Automation Studio and Soft CNC, unit is designed for bipolar 2-phase stepper motors, 1 A (24 V) or for 3 A (18-48 V) rated current.
---
Original Press Release:

B&R X20 Stepper Control



Stepper motors have a long and varied history in motion control and are therefore very widespread in the machine manufacturing industry. Despite the apparent benefits of migrating to servo motors for some applications, stepper motors still hold an advantage in many technological areas. B&R therefore decided to introduce the X20 stepper motor controller, its IP20-rated stepper controller for the X20 controller and I/O system, in addition to it's X67 modules for power control which are IP67-rated. B&R now offers two X20 stepper motor connections with different output power levels. The extremely compact X20 modules were designed for bipolar 2-phase stepper motors, 1 A (24 V) or for 3 A (18-48 V) rated current.

The X20 stepper motor connections can resolve each full step into up to 256 microsteps. The module always carries out the maximum number of microsteps possible at a particular step frequency. On the one hand this greatly increases the positioning precision, and on the other it makes operation much smoother. Additional measures for reducing resonance are no longer necessary. Holding, boost, and continuous current can all be set separately. This allows the coil currents to be individually adjusted for each motor. The motor is only supplied with as much current as it really requires.

Additional features include automatic motor detection when booting and stall detection, which identifies overload situations or any unwanted blocking of the motor. In addition to the outputs for the motor, the module also has four digital inputs. These can also be used as standard inputs, e.g. for limit switches. The integrated counter functions make it possible to connect an AB or ABR encoder as an external feedback signal.

All settings for the module are software-based and are quick and easy to adjust, even during runtime. B&R Automation Studio is an efficient tool that simplifies the commissioning process. Stepper motors can be operated in single-axis mode, with an axis group, or connected to other axes. The B&R soft CNC can handle up to 100 axes per interface.

Stepper module highlights:
o 256 microsteps
o Integrated motor detection
o 4 inputs for end switches or encoders
o Complete integration in Automation Studio and Soft CNC

B&R Industrial Automation Corp.
Attn: Waltraud A. Roberts
1325 Northmeadow Parkway, S-130
Roswell, GA 30076

More from Packaging Products & Equipment