Stepper Motor Controllers and Drives
Stepper Driver uses pure-sinusoidal current control technique.
Press Release Summary: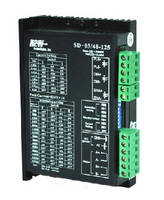 With automatic optimization speed control technique, Model SD-03-48-125 produces output that is stable with almost zero vibration and noise. Two-phase, bi-polar micro-stepping drive features supply voltage of 20–50 Vdc, selectable output current from 1.0~4.2 A peak, pulse input frequency up to 200 kHz, and selectable resolutions up to 25,000 steps. Suitable for 2-phase, 4-, 6-, and 8-lead step motors, driver includes over voltage, coil to coil, and coil to ground short circuit protection.
---
Original Press Release:
New H2W Stepper Driver
The SD-03-48-125 is a cost effective, high performance, bi-polar, two phase micro-stepping drive which utilizes the pure-sinusoidal current control technique. It is best suited for applications which require extreme low noise and heat. It operates well in an environment where input voltage may experience instability and fluctuation.

The general pseudo-sinusoidal current control technology used by most stepper drives produces a distorted sine wave and current ripple, resulting in vibration, noise and motor heating. This results in the motor degrading over time, reducing its performance and life.

With the automatic optimization speed control technique, the SD-03/48-125 stepper drive output is very stable with almost zero vibration and noise, performing close to a servo system. This allows the motor to operate smoothly. This is useful in applications which require low noise, low heat and high performance.

Drivers will be preset to match the continuous current specifications of any H2W linear stepper motor. Available from stock for immediate shipping.

Features:
- 20 to 50VDC Supply Voltage
- H-Bridge, 2 Phase Bi-polar Micro-stepping Drive
- Suitable for 2-phase, 4, 6 and 8 leads step motors
- Compatible all H2W linear stepper motor models, STS-0213-R, STS-0620-R, STS-1220-A, STS-2030-A
- Compatible with standard rotary stepper motors used in H2W Belt & Screw Driven Linear Stages, Nema 23 & 34
- Output current selectable from 1.0 ~ 4.2A peak
- Current reduction by 50% automatically, when motor standstill mode is enabled
- Pulse Input frequency up to 200 kHz
- Optically isolated differential TTL inputs for Pulse, Direction and Enable signal inputs
- Selectable resolutions up to 25000 steps (125 micro-steps)
- Over Voltage, Coil to Coil, and Coil to Ground short circuit protection.

H2W Technologies is dedicated to the design and manufacture of linear and rotary motion products that are used in the motion control industry.  The complete line of linear electric motors includes: single and dual axis linear steppers, DC brush and brushless linear motors, voice coil actuators, and AC induction motors.  Also offered is a complete line of ball screw, lead screw and belt driven positioning stages.

Other motion control products include: limited angle torque motors for compact, limited angular excursion rotary servo applications, 3 phase brushless rotary servo motors with matching digital servo amplifiers and permanent magnet linear brakes for fail-safe, zero power braking for baggage handling and people moving applications as well as amusement park rides.

With over 85 years combined experience in the linear and rotary motion field, the H2W Technologies team of engineers offers the optimal solution to the most demanding motion control requirements.

For additional information please contact Mark Wilson at H2W Technologies, 26470 Ruether Avenue #102, Santa Clarita, CA 91350; Tel: 888-702-0540, Fax: 661-251-2067, E-Mail: info@h2wtech.com or visit the website at www.h2wtech.com.
Contact This Company Download Spec Sheet
More from Communication Systems & Equipment