Stepper Drive and Motor Unit are fused into single device.
Press Release Summary: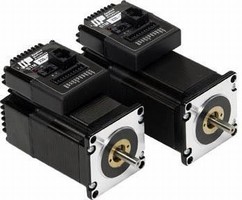 Featuring advanced current control, anti-resonance technology, torque ripple smoothing, and microstep emulation, STM Drive+Motor solution delivers optimized stepper performance suited for variety of automation applications. It is available in lengths of 92.4 and 114.4 mm with output torque of up to 125 and 245 oz-in., respectively. Unit has 3 digital inputs, one digital output, and analog output, RS232 or RS485 communication interface, and optional 1,000 line encoder.
---
Original Press Release:

Applied Motion Products New Drive+Motor Unit Reduces Wiring and Space Needs, and Associated Costs



Latest addition to ST family of motion control solutions, all featuring common control interfaces and programming languages

WATSONVILLE, CA - Applied Motion Products introduces the STM Drive+Motor solution. The STM is a stepper drive and motor unit fused into a single device that offers significant savings on space, wiring and cost when compared with conventional motor and drive solutions.

Powerful features such as advanced current control, anti-resonance technology, torque ripple smoothing and microstep emulation allow the STM to deliver optimized stepper performance ideal for medical, packaging, semiconductor and a wide variety of other automation applications. STM drive+motor units come standard with protection against over and under voltage, over-temp, motor shorts and motor open phase. They are RoHS compliant and CE certified.

"Traditionally the motor is housed within in the machine while the drive module and controller, if used, are housed in an external control cabinet, requiring that a motor cable run from the control cabinet to the motor. Because the STM is a combined drive and motor unit, the only additional requirement for operation is that power be supplied, which is likely already distributed around the machine to other devices. The result is that the STM can provide significant savings on control cabinet space, along with simplified wiring," says Richard Hazelwood, Marketing Manager.

The STM is available in lengths of 92.4 mm with an output torque of up to 125 oz-in, or 114.4 mm with an output torque of up to 245 oz-in. They provide three digital inputs, one digital output and one analog output. Users can choose from an RS232 or RS485 communication interface and an optional 1000 line encoder that is integrated to the motor body without increasing the size of the unit. The optional encoder provides stall detect and stall prevention functionality.

Two versions with different control options are available; the S version with step and direction input, and the programmable Q version. The STM-S is quickly and easily configured with graphical, intuitive CONFIGURATOR software. The STM-S can be configured from a drop-down menu, or the user can quickly create custom motor configurations if desired. The STM-Q is well suited for more complex motion. It provides stand-alone operation and is quickly programmed with the robust Q programming environment, which delivers a number of benefits including register manipulation, conditional processing, math functions, multi-tasking and "generic" HMI compatibility.

Self-Test and Auto Setup features measure and configure motor parameters automatically, while Electronic Damping (anti-resonance) technology eliminates midrange instability for higher motor speeds and fuller use of available torque. Command Signal Smoothing reduces extraneous system resonances for smoother motor performance and reduced wear on mechanical components. Torque Ripple Smoothing adjusts the current waveform to reduce low speed torque ripple for smooth motion at low motor speeds. Additionally, MicroStep Emulation provides smooth motion for systems that require low step resolutions, such as retrofit systems with controller resolution that is fixed at a low value and cannot easily be changed.

Founded in 1978, Applied Motion Products specializes in cost-effective, high precision motors and motion control solutions. They offer a full complement of stepper and Brushless servo motors, positioning control electronics and gearheads to industrial and OEM customers.

Applied Motion Products, 404 Westridge Drive, Watsonville, CA 95076; 1-800-525-1609; fax: (831) 761-6544; sales@applied-motion.com; www.applied-motion.com.


More from Agricultural & Farming Products