Step-Down Regulator has wide input voltage range of 8-50 V.
Press Release Summary: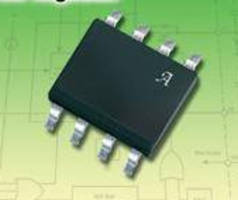 Suited for wide variety of applications, 2 A fixed off-time, current-mode-controlled buck-switching regulator A4447 operates in both continuous and discontinuous modes. It requires external clamping diode and inductor and filter capacitor, and uses internal blanking circuit to filter out transients, while off time is determined by external resistor. Typical blanking time is 200 nsec, and output voltage is adjustable from 0.8-24 V based on resistor divider and 0.8 V ±3% reference.
---
Original Press Release:

Allegro Announces a New Wide-Input Voltage 2 A Step-Down Regulator



A4447 General-Purpose Buck Regulator for a Wide Variety of Applications

Worcester, MA - April 4, 2009 - Allegro expands their current family of step-down regulators by adding a 2 A fixed off-time, current-mode-controlled buck-switching regulator. This general-purpose buck regulator is targeted at the consumer electronics, office automation and industrial markets. This new device can be used in a wide variety of applications; the 8 V to 50 V input range makes it ideal where a wide range of input voltages may occur.

Allegro's A4447 can handle a wide input of operating voltage range. The regulator requires an external clamping diode, inductor and filter capacitor, and the off time is determined by an external resistor. It will operate in both continuous and discontinuous modes. An internal blanking circuit will be used to filter out transients due to the reverse recovery of the external clamp diode. Typical blanking time is 200 nS, and the output voltage is adjustable from 0.8 V to 24 V based on a resistor divider and the 0.8 V ±3 percent reference.

This new device is ideal for various end products including applications with 8 V to 50 V input voltage range needing a buck regulator for 2 A output current, consumer equipment power, uninterruptible power supplies, 12 V lighter-powered applications (portable DVD, etc.), automotive 12 V or 24 V input applications with higher voltage protection, printer applications, and industrial applications with 24 V or 36 V bus.
Allegro's A4447 is supplied in an eSOIC-8L package. It is priced at $0.62 in quantities of 1,000 and has a 12-week lead-time to market.

About Allegro

Allegro MicroSystems, Inc. is leader in developing, manufacturing and marketing high-performance power integrated circuits and integrated Hall-effect magnetic sensors. Allegro's innovative solutions serve high-growth applications within the automotive, communications, computer/office automation, consumer and industrial markets. Allegro is headquartered in Worchester, Massachusetts (USA) with design and applications center located in North and South America, Asia, and Europe. Further information about Allegro can be found at www.allegromicro.com.

Allegro MicroSystems, Inc.,
115 Northeast Cutoff,
Worcester, MA 01606
United States

More from Fasteners & Hardware