Step Down Regulator features 4 MHz switching frequency.
Press Release Summary: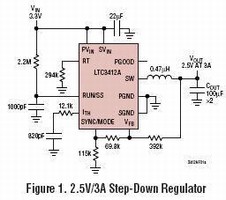 Using constant frequency, current mode architecture, Model LTC3412A can deliver up to 3 A of continuous output current at voltages as low as 0.8 V from 4 x 4 mm QFN package. It operates from input voltage of 2.25-5.5 V, making it suited for single cell Li-Ion or NiMH applications. Synchronous buck regulator uses internal switches with RDS(ON) of 0.065 and 0.077 ohms to deliver efficiencies up to 95%. No load quiescent current is 64 µA, and less than 1µA in shutdown.
---
Original Press Release:

LTC3412A: 4MHz, Synchronous Step-Down Regulator Delivers 3A from a 4mm x 4mm QFN



MILPITAS, CA - November 30, 2005 - Linear Technology announces the LTC3412A, a high efficiency, 4MHz, synchronous buck regulator using a constant frequency, current mode architecture. It can deliver up to 3A of continuous output current at voltages as low as 0.8V from a 4mm x 4mm QFN (or a thermally enhanced TSSOP-16) package. It operates from an input voltage of 2.25V to 5.5V, making it ideal for both single cell Li-Ion, or NiMH applications, as well as more general purpose fixed rail systems. Its 4MHz switching frequency allows the utilization of tiny low cost capacitors and inductors with less than 1.5mm profile. High frequency operation also keeps switching noise out of critical wireless and xDSL frequency ranges, making it ideal for xDSL modems, cellular base stations and automotive applications.

The LTC3412A uses internal switches with RDS(ON)s of only 0.065 Ohm and 0.077 Ohm to deliver efficiencies as high as 95%. It also utilizes low dropout 100% duty cycle operation to allow output voltages equal to VIN. No load quiescent current is only 64uA, and less than1uA in shutdown, making it ideal for applications such as automotive power systems that require ultra-low supply currents. For optimum efficiency at light loads, the LTC3412A utilizes selectable Burst Mode® operation to reduce gate charge losses. The current at which the Burst Mode operation initiates is user programmable, enabling the designer to optimize light load efficiency. If the application is noise sensitive, the SYNC/MODE pin can also be configured to provide forced continuous operation to reduce noise and RF interference. Additional features include a Power Good voltage monitor, external synchronization capability, and thermal protection. The LTC3412A is an ideal, for applications requiring 3A of output current, and where a small solution size and low supply current are critical.

The LTC3412A is available from stock in a QFN-16, or a 16-lead thermally enhanced TSSOP package. Pricing starts at $4.10 each in 1,000-piece quantities.

Summary of Features: LTC3412A
High Efficiency: Up to 95%
3A Output Current
Low Quiescent Current: 64uA
Low RDS(ON) Internal Switch: 77m Ohm
2.25V to 5.5V Input Voltage Range
Programmable Frequency: 300KHz to 4MHz
±2% Output Voltage Accuracy
0.8V Reference Allows Low Output Voltage
Selectable Forced Continuous/Burst Mode Operation with Adjustable Burst Clamp
Synchronizable Switching Frequency
Low Dropout Operation: 100% Duty Cycle
Power Good Output Voltage Monitor
Overtemperature Protected
Available in 16-Lead Exposed Pad TSSOP & QFN-16 Packages

Name: Doug Dickinson
Title: Media Relations Manager
Tel: 408-432-1900 ext. 2233
E-mail: ddickinson@linear.com

More from Materials