DC to DC Power Supplies (Converters)
Step-Down Converters provide up to 95% power efficiency.
Press Release Summary: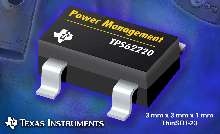 Series TPS6222x consists of 400 mA, synchronous DC/DC converters that support input voltage from 2.5-6 V, output voltage of 6 V down to 0.7 V, and output current up to 400 mA. They operate with fixed switching frequency of 1.25 MHz. In Power Save Mode, switching frequency is reduced and quiescent current is typically 15 µA. Converters come in 5-pin ThinSOT-23 package and are suited for battery-powered, portable systems.
---
Original Press Release:

New TI 400-mA Step-Down Converters Increase Battery Life in Low Voltage Processor-Powered Applications


DC/DC Family Provides Up to 95 Percent Power Efficiency, Low Quiescent Current in a ThinSOT-23

DALLAS (Oct. 6, 2003) - Extending efforts to improve system run-times in application processor-powered and digital signal processing (DSP)-based portable devices, Texas Instruments Incorporated (TI) (NYSE: TXN) announced today a family of 400-mA, synchronous DC/DC step-down converters with ultra-low quiescent current and up to 95 percent power efficiency. The new high performance power management converters are ideally suited for portable systems powered by single-cell lithium-ion (Li-Ion) or three-cell alkaline or nickel metal-hydride (NiMH) batteries. See: power.ti.com/sc03217.

The TPS6222x family of step-down converters supports an input voltage range from 2.5 V to 6 V, an output voltage range of 6 V down to 0.7 V and output current up to 400 mA, which can support personal digital assistants (PDAs), smartphones and wireless LAN applications. The converters operate with a fixed switching frequency of 1.25 MHz (typical). To provide additional power savings, the TPS6222x enters a "power save mode" operation at light load currents. In this mode the switching frequency is reduced and quiescent current is typically only 15 uA, resulting in the highest efficiency over the entire load current range. Additionally, an advanced fast response voltage mode control scheme achieves excellent line and load regulation with small ceramic input and output capacitors.

Additional Features
o Adjustable Output Voltage Range from 0.7 V to Vin
o Fixed Output Voltage Options Available
o Up to 400 mA Output Current
o 1.25 MHz Fixed Frequency Pulse Width Modulation Operation
o Softstart
o 100 Percent Duty Cycle Low Dropout Operation
o Dynamic Voltage Positioning

Pricing and Availability
The TPS6222x step-down DC/DC converters are available today in volume from TI and its authorized distributors. Suggested resale pricing for the devices, which come in a five-pin ThinSOT-23 package, are $1.49 each in quantities of 1,000. Evaluation modules of the TPS6222x are available in less than 24 hours through power.ti.com.

Texas Instruments Incorporated provides innovative DSP and analog technologies to meet our customers' real world signal processing requirements. In addition to Semiconductor, the company's businesses include Sensors & Controls, and Educational & Productivity Solutions. TI is headquartered in Dallas, Texas, and has manufacturing, design or sales operations in more than 25 countries.

Texas Instruments is traded on the New York Stock Exchange under the symbol TXN. More information is located on the World Wide Web at: www.ti.com

More from Material Handling & Storage