Steerable Lift Axle promotes weight savings and flexibility.
Press Release Summary: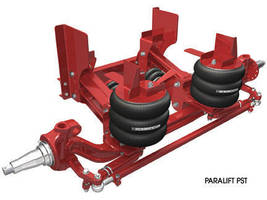 Weighing 20,000 lb, PARALIFT(TM) PST(TM) comes with Westport axle and D22 spindle. Wheel cut is extended to 25°, while driveline clearance is optimized due to axle seat design and location of stabilizers inside tie rod, connected to axle brackets. Adjustability of frame width and ride height enables one unit to accommodate various truck configurations. Parallelogram design maintains proper wheel tracking and ensures lift plates remain parallel for prolonged air spring life.
---
Original Press Release:

Hendrickson's New PARALIFT(TM) PST(TM) Lift Axle Advances Weight Savings and Flexibility



HEBRON, Ohio - Hendrickson trims 90 more pounds from its popular PARALIFT(TM) lift axle system with the production launch of the refined PARALIFT PST(TM) this month.

Fitting PARALIFT with a new axle, Hendrickson retained the rugged durability and versatility of the 20,000-pound, steerable lift axle system while improving driveline clearance and wheel cut.

"The new PARALIFT PST steerable lift axle revolutionizes this product category with superior performance and the versatility of adjustable frame widths and ride heights," says Paul Brown, marketing manager of Hendrickson Auxiliary Axle Systems. "All of PST's advantages substantially help improve the bottom line for fleets and operators, lowering both cost and weight."

The PST comes with a Westport axle and D22 spindle resulting in a 90-pound weight reduction making the system one of the lightest in its class. Models are available for a wide variety of Class 8 truck chassis.

To enhance driveline clearance and extend wheel cut to 25 degrees, the axle seats are re-designed and the stabilizers moved inside the tie rod and connected to the axle brackets.

PST retains the many popular advantages of previous PARALIFT models including adjustability of frame width and ride height allowing fleets, aftermarket installers and body builders to apply one unit to meet a wide variety of truck configurations.

The proven parallelogram design maintains proper wheel tracking and ensures lift plates remain parallel for longer air spring life. PARALIFT's trailing arm beams feature an efficient single-paddle, z-beam configuration.

PARALIFT PST delivers 12 inches of total travel with nine inches of lift in ride heights from 9.5 to13.5 inches, all in a 28-inch package space. Zero-torsion, trailing-arm bushings help eliminate bushing wind-up and allow for the two lift-spring configuration.

For additional information about PARALIFT PST, call Hendrickson Auxiliary Axle Systems at 800-660-2829 or visit www.hendrickson-intl.com.

Hendrickson, a Boler company, is a premier, global manufacturer and supplier of truck, tractor, bus and recreational vehicle suspensions and heavy-duty springs; trailer suspensions, controls and nonintegrated axles; truck and trailer lift axles, and bumpers and trim components to the commercial transportation industry. Hendrickson, based in Itasca, Ill., USA, continues to meet the needs of the transportation industry after more than 95 years. Visit the Hendrickson Web site at www.hendrickson-intl.com.

More from Fasteners & Hardware