Steel Disk Seals protect roller bearings from liquids.
Press Release Summary: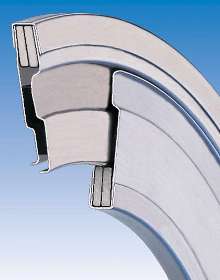 Type LST-L NILOS-Ring Seals offer protection for grease-lubricated roller bearings in applications where wash-down or regular exposure to liquids may be required. Stainless steel, non-contact labyrinth seals incorporate Viton® gasket for extra sealing, especially when liquids are in permanent contact with bearings. With 4 mm profile, units come in range of sizes to accommodate various internal and external bearing dimensions.
---
Original Press Release:
NILOS-Ring Steel Disk Seals Protect Roller Bearings from Liquids
New NILOS-Ring steel disk seals available from SKF Motion Technologies (Bethlehem, PA) offer protection for grease-lubricated roller bearings in applications where wash-down or regular exposure to liquids may be required. Their design uniquely incorporates a VITON® gasket, which further enhances sealing performance, especially when liquids are in permanent contact with bearings. These all-metal non-contact labyrinth seals (Type LST-L rings) serve as a practical and easily utilized method to help improve bearing performance and extend service life, even in the harshest industrial operating environments. Type LST-L rings are ready-to-install, compact, and feature a low profile (only 4mm high) for added space-saving benefits. Manufactured from stainless steel, these seals are available in a wide range of sizes to accommodate various internal and external bearing dimensions. Custom rings can be developed to meet application-specific requirements. Contact James M. Brown, SKF Motion Technologies, 1530 Valley Center Parkway, Bethlehem, PA 18017-2266. Phones: 800-41-3624 (toll-free) or 610-861-3712. Fax: 610-861-3737. Web site: www.linearmotion.skf.com (NILOS® is a registered trademark of Ziller GmbH & Co. KG and SKF® is a registered trademark of SKF USA Inc.)
Related