Hydraulic / Pneumatic / Radial Shaft Seals
Steel Disk Seals protect bearings from contaminants.
Press Release Summary: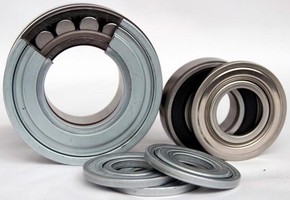 To protect grease-lubricated bearings exposed to contamination, NILOS®-Ring Type LSTO steel-disk seals satisfy key performance requirements by minimizing bearing friction losses and heat build-up as well as preventing lubricant leakage and penetration of dirt. Non-contact, grease-filled labyrinth sealing elements consist of laminated steel-seal disks and steel cores. Seals will not slip when clamped in axial direction of inner and outer periphery of roller-bearing ring.
---
Original Press Release:

NILOS® -Ring 'Type LSTO' Steel-Disk Seals Protect Bearings from Contaminants



Ideal for Extreme Operating Conditions:

NILOS®-Ring "Type LSTO" steel-disk seals can provide superior protection for grease-lubricated bearings exposed to extreme levels of contamination. Applications for these specialized bearing seals include lubrication and fluid power equipment; construction, mining, paper, and agriculture machinery; and conveyor rollers, among others.

Type LSTO steel-disk seals satisfy key performance requirements by minimizing bearing friction losses and heat build-up and preventing lubricant leakage and penetration of dirt.

The non-contact, grease-filled labyrinth sealing elements consist of laminated steel-seal disks and steel cores. The seals resist axial pressure and will not slip when clamped in the axial direction of both the inner and outer periphery of a roller-bearing ring.

Type LSTO steel-disk seals are available for use with a wide range of shaft and casing diameters and are provided ready-to-install for quick and easy mounting.

They can further be customized to meet application-specific requirements.

Contact Kody T. Fedorcha, SKF Linear Motion & Precision Technologies, 1530 Valley Center Parkway, Bethlehem, PA 18017-2266 USA. Phone: 800-541-3624 (toll-free) or 610-861-3733. Fax: 610-861-3737. Web site: www.linearmotion.skf.com

(NILOS® is a registered trademark of Ziller GmbH and Co. KG and SKF® is a registered trademark of SKF USA Inc.)

More from Waste Management & Waste Handling Equipment