Steel Conveyor Belts measure 0.2 mm thick.
Press Release Summary: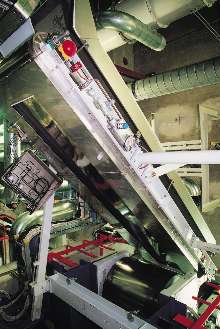 Available in widths to 600 mm, steel belts benefit transported goods by means of thermal conductivity; corrosion- and abrasion-resistance; tensile strength; and reversed bending strength. Belts have hard, smooth surface available in stainless or carbon steels with solid or perforated construction and smooth or textured surface. They are suited for use in pure conveying applications to instances in which belt is used to transport goods through different processes.
---
Original Press Release:
Thin Steel Belts to Challenge Plastic Monopoly

Sandvik apply steel expertise to develop versatile 0.2 mm thick steel belts

Sandvik Process Systems, a product area within Sandvik Materials Technology and the company behind the world's first steel belt over 100 years ago, is set to expand its presence in the conveying market with the introduction of ultra-thin steel belts that can be employed in applications previously monopolised by plastic belts.

The new belt thickness of 0.2 mm, together with a belt width up to 600 mm, results in a reduced deflection diameter which in turn opens up new opportunities for this proven conveying medium.

Among the inherent benefits of steel as a material for transporting goods is its excellent properties in terms of thermal conductivity; corrosion resistance; high tensile strength; high reversed bending strength; hard, smooth surface and resistance to abrasion. The right balance between these properties can be achieved through careful specification of steel type and Sandvik are widely experienced in designing belts to cope with different and often difficult conditions.

Further Sandvik steel belt applications:

Among the choices available to Sandvik's designers are stainless or carbon steels, solid or perforated construction and a smooth or textured surface. Following major investment in its manufacturing and finishing facilities, the company can produce belts in widths ranging from as narrow as 200 mm right up to belts measuring 6000 mm wide - with the capacity to supply even larger if required.

This expertise has led to Sandvik steel belts being used in a range of environments from 'pure' conveying applications - including abrasive, hot, corrosive, sticky or pasty products - to instances in which the belt is used to transport goods through different processes. These can be as diverse as the transportation of car parts through coating lines to bake ovens, fruit & vegetable drying systems and coffee freezers where temperatures can fall as low as -50°C. Food processes are particularly suitable applications for steel due to its corrosion resistance, ease of cleaning and efficient product discharge - essential for products such as chocolate and cocoa mass.

This in-built versatility has led to the steel belt being chosen as the heart of processing systems the world over, in processing plants in the chemical, plastics and wood industries. It can be used for cooling, for drying, for pressing and for forming. Several process steps can be carried out concurrently - or consecutively - and processes can run continuously in a single plant.

For more information please contact

Sandvik Process Systems, Div. of Sandvik GmbH, 7o736 Fellbach / Germany
Mrs. Rosemarie Lamprecht
Telefon 0711-51o5-148 Fax: o711-51o5-114
e-mail: rosemarie.lamprecht@sandvik.com

Issued by

PSL - Priority Services Limited
The Lodge, Castle Bromwich Hall
Birmingham B36 9DE
UK

Contact: Trevor M Smith
Tel: 0121 748 8710
Fax: 0121 748 8711
Email: trevor.smith@priorityservices.co.uk
More from Sensors, Monitors & Transducers