Steam Trap suits low pressure radiator applications.
Press Release Summary: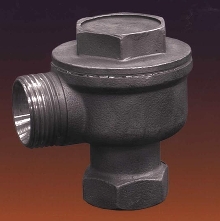 GCR07 thermostatic capsule steam trap features brass body with stainless steel internals. It is designed for pressures up to 230 psi and temperatures up to 390 deg F. Maximum operating pressure is 145 psi, and maximum differential pressure is 100 psi. Sizes range from 3/8 to 3/4 in. with NPT end connections.
---
Original Press Release:
Bestobell Steam Introduces New Thermostatic Capsule Steam Trap

The GCR07 is ideally suited for low pressure radiator applications. This steam trap features a brass body with stainless steel internals.

Specifications for the GCR07 include: for pressures up to 230 psi, maximum allowable temperatures of up to 390°F, maximum operating pressure of 145 psi and maximum differential pressure of 100 psi.

The GCR07 is available in sizes from 3/8" to 3/4" with NPT end connections. Total weight is 1.0 lbs.

Bestobell Steam has a complete line of Thermostatic Capsule Steam Traps in addition to the GCR07. Also available is the DCM21 for capacities up to 900 lbs/hr at up to 305 psi; the GSM17 for capacities up to 1200 lbs/hr at up 8 to 250 psi; the GCM17 for capacities up to 2200 lbs/hr at up to 250 psi; and
the TCM07 for pressures up to 100 psi.

For a free brochure, contact Bestobell Steam Trap, Division of Richards Industries, 3170 Wasson Road, Cincinnati, OH 45209. Phone 513-533-5600; toll-free phone 800-543-7311; fax 513-871-0105; e-mail: [email protected]