Trap Maintenance and Repair Services
Steam Trap Station offers testing, isolation, and changeout.
Press Release Summary: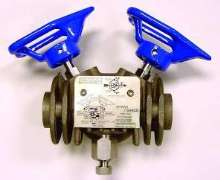 Universal Steam Trap Station, Model USTS combines inlet isolation/blowdown valve and outlet isolation/test valve. When set to blowdown position, inlet valve isolates trap for service. Discharge valve, when set to test position, isolates discharge side of trap, blocking outlet port, so trap function can be checked and downstream depressurization can be done. Standard model is rated 300 psig and 421°F, while high pressure Model USTS-HP is rated 650 psig and 750°F.
---
Original Press Release:

Compact Steam Trap Station Introduced


BLYTHEWOOD, SC - Spirax Sarco, Inc., introduces the USTS Universal Steam Trap Station, designed for rapid and easy testing, isolation and changeout of steam traps. When combined with the steam trap technology of choice, the USTS comprises a complete steam main drip or tracer steam trap station in a compact package.

The USTS combines an inlet isolation/blowdown valve and an outlet isolation/test valve. The valves are 3-way, plug-type (on-off-test) units. The inlet valve, when set to the blowdown position, isolates the trap for service. The discharge valve, when set to test position, isolates the discharge side of the trap, blocking its outlet port, so that trap function can be checked and downstream depressurization can be done. The isolation/blowdown port incorporates an integral 20 mesh stainless steel strainer.

Two USTS models are available. The standard model has a maximum operating pressure rating of 300 psig (21 barg), with a maximum operating temperature rating of 421°F (198°C). The USTS-HP (high pressure) model is rated at 650 psig (45 barg) and 750°F (399°C). Available line sizes include 1/2" and 3/4" NPT. All wetted parts are stainless steel; the body has an internal Ryton® polyphenylene sulfide (PPS) liner. The station will support Spirax Sarco and third-party universal connector-type steam traps.

Spirax Sarco
Spirax Sarco is the world's leading provider of steam system solutions, dedicated to providing knowledge, service and products for the control and efficient use of steam and other industrial fluids. With over 90 years of experience, Spirax Sarco has both the resources and capabilities to meet customers' total system needs.

Contact
Dawn Cartwright
Marketing Communications Supervisor
Spirax Sarco, Inc.
Tel. 803-714-2072
Fax 803-714-2224
EMail dcartwri@spirax.com
www.spiraxsarco.com/us

More from Machinery & Machining Tools