Steam System targets high-speed corrugating machines.
Press Release Summary: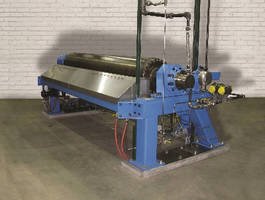 Unlike conventional steam systems, Kadant Johnson Corrugator Steam System controls differential steam pressures and blow-through steam flows for each steam-heated roll, providing highest possible heat transfer and temperature uniformity while minimizing maintenance. System addresses heat transfer limitations that have been found to negatively impact performance of high-speed single-facers.
---
Original Press Release:

Kadant Johnson Introduces Steam System for High-Speed Corrugators



Three Rivers, Mich. - Kadant Johnson Inc., a subsidiary of Kadant Inc. (NYSE:KAI), announced its new corrugator steam system for high-speed corrugating machines. Unlike conventional corrugator steam systems, the Kadant Johnson corrugator steam system controls differential steam pressures and blow-through steam flows for each steam-heated roll. This provides the highest possible heat transfer and temperature uniformity with higher efficiency and less maintenance than conventional steam trap systems. Kadant Johnson's advanced steam system addresses the heat transfer limitations that have been found to negatively impact the performance of high-speed single-facers.

Extensive testing of corrugator roll heat transfer has been conducted over the past two years at the Kadant Johnson Research Center in Three Rivers Michigan. This work has provided a better understanding of heat transfer in the steam-heated rolls and the evaluation of:

· Critical performance parameters for peripherally-drilled corrugator rolls

· Critical performance parameters for plain shell rolls

· Blow-through steam requirements for maximum heat transfer

· The effects of speed on heat transfer rates and temperature profile uniformity

· Syphon characteristics and integration with the steam system

· Transient performance following corrugated sheet blow outs

Kadant Johnson Inc., based in Three Rivers, Michigan, is a leading provider of rotary joints, syphons, condensate pumps, and steam handling systems to process industries. Kadant Johnson technologies are used in rotating cylinders to integrate fluid handling systems with mechanical hardware to optimize heat transfer rates, uniformity, and efficiency.

Kadant is a leading supplier to the global pulp and paper industry. Its stock-preparation, fluid-handling, doctoring, and water-management equipment and systems are designed to increase efficiency and improve quality in pulp and paper production. Many of its products, particularly in the fluid-handling product line, are also used to optimize production in other process industries. In addition, Kadant produces granules from papermaking byproducts for agricultural and lawn and garden applications. Kadant is based in Westford, Massachusetts, with revenues of $335 million in 2011 and 1,700 employees in 17 countries worldwide. For more information, visit www.kadant.com.

Danielle Rohrer

Marketing Manager

Kadant Johnson Inc.

805 Wood St.

Three Rivers, MI 49093 USA

Tel: +1-269-273-3076 ext 2261

Fax: +1-269-273-2230

Email: danielle.rohrer@kadant.com

Web: www.kadant.com

More from Materials