Steam Pressure Washers suit auto detailing applications.
Press Release Summary: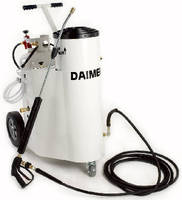 Producing pressure level of 1,000 psi and steam temperatures to 300°F, Super Max® 6230SCW and 6120SCW deliver industrial-strength cleaning that will not melt or scratch paint or other delicate surfaces. Flow rate of .5 gpm will not harm vehicle surfaces and generates minimal water waste. Powered by electricity, 6120SCW Mobile Car Wash (110-120 V, 60 Hz) and 6230SCW Mobile Car Wash (220-240 V, 60 Hz) will remove dirt, mud, brake dust, bugs, tar, salt, grease, oil, and tree sap.
---
Original Press Release:

Daimer Industries Introduces Two New Steam Pressure Washers for Auto Detailing Professionals



Daimer's Super Max® 6230SCW and 6120SCW pressure washers offer industrial strength cleaning power that will not damage delicate car surfaces.

WOBURN, MA - May 26, 2009 - Daimer Industries, a leading manufacturer and distributor of commercial cleaning products, has introduced a new line of steam car wash equipment designed for auto detailing professionals.

"The Super Max® 6230SCW and 6120SCW low-moisture, pressure washers offer high-performance, but won't melt or scratch paint or other delicate surfaces," said Matthew Baratta, Daimer.com spokesman. "This equipment was created for auto detailing professionals who want to minimize water use and reduce the amount of cleaning chemicals they use."

Overview: Mobile Steam Car Wash Equipment

Prior to the introduction of Daimer's mobile steam car wash systems, auto detailing professionals were forced to choose between two problematic cleaning options: conventional pressure washers or dry steam cleaners.

Conventional pressure washers offer an inefficient method of auto detailing because they waste large volumes of water -- up to 5 GPM. High levels of waste can result in water emptying down storm drains and EPA fines. To avoid problems, auto detailing companies often have to purchase water capture and re-circulating systems. Pressure washers have another drawback: The equipment exerts pressures of up to 3000 psi, which can damage paint.

Dry steam cleaners present auto detailers with another less than optimal solution because the machines do not have enough muscle for tough dirt. The equipment typically offers pressure levels of only up to 100 psi or so, and uses vapor steam that contains only 5% water. Moreover, the machines tend to quickly lose pressure and temperature as time passes. Employees end up constantly wiping by hand, which can result in scratched finishes and poor results.

Next Generation Mobile Auto Detailing Systems

The Super Max® 6230SCW and 6120SCW Mobile Car Wash machines offer a pressure level of 1000 psi and steam temperatures of up to 300º F for industrial strength cleaning. The low .5 GPM flow rate will not harm vehicle surfaces and generates minimal water waste. This mobile auto detailing equipment maintains constant temperature and pressure throughout its operation. Both machines minimize the need for chemicals or other cleaning related auto detailing cleaning products.

The 6230SCW and 6120SCW are designed to remove dirt, mud, brake dust, bugs, tar, salt, grease, oil, and tree sap. The machines also melt ice and snow. The combination of high temperature and pressure as well as low flow makes this mobile steam car wash equipment safe for delicate vehicle surfaces including wheels, car exteriors and glass.

An included propane tank heats cold water to 300º F within about 60 seconds. These machines are powered by electricity, which means auto detailing companies can plug the machines into either a wall outlet or a portable generator for mobile car wash applications.

The 6120SCW Mobile Car Wash is the 110-120V, 60Hz version, while the 6230SCW Mobile Car Wash is the 220-240V, 60Hz option. Both machines are also available in 50Hz configurations for shipment to countries with different power requirements.

Green Car Wash Chemicals

Daimer Industries recently introduced the Eco-Green® line of biodegradable, ecologically friendly green cleaning solutions. This new line includes a variety of products aimed at the auto detailing industry, including: Heavy-Duty Car Wash, Truck Wash, Glass & Multi-Surface Cleaner, Carpet Care, Chrome & Steel Metal Cleaner and Brake Dust Eliminator.

For More Information

Questions and requests for additional information can be directed to Matthew Baratta by calling (888) 507-2220.

About Daimer Industries

Daimer is a major manufacturer, importer and worldwide exporter of the industry's leading line of KleenJet® steam cleaners; XTreme Power® carpet cleaners, hard surface cleaning machines, floor buffers/scrubbers/burnishers; Super Max® and Vapor-Flo® pressure washers; and the line of Micro-Blasting ® Eco-Green® ecologically friendly green chemicals that employ unique technologies and a patented, proprietary chemistry.

Related