Steam Pressure Washer optimizes auto detailing.
Press Release Summary: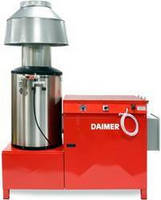 Powered by electricity and heated by natural gas or propane, Super Max™ 15800 generates temperatures up to 330°F and pressure levels of 2,000 psi at flow rates of 4 gpm. System utilizes 5.0 hp NEMA engine and Thermal Optimized Projection Steam™ technology to create forceful and high-temperature steam flow that removes bugs, mud, dirt, and tree sap. Available with 2-gun operation, stationary unit features powder-coated steel, chip/chemical resistant housing for demanding environments.
---
Original Press Release:

Daimer Unveils Steam Pressure Washer For Auto Detailing



Daimer Industries, Inc.®, the globally popular American brand and supplier of cleaning systems, including versatile electric pressure washer and gas pressure washer machines, steam vacuum cleaners, and more, is debuting the Super Max™ 15800, a stationary, tri-mode commercial pressure washer that generates temperatures up to 330ºF and pressure levels of 2000 psi at flow rates of 4 gpm. The pressure washer machine, powered by electricity and heated by either natural gas or propane, features a powder-coated steel, high gloss, chip/chemical resistant housing, which makes the machine ideal for challenging auto detailing applications.



"An automobile's appearance and resale value can be maintained by regular and thorough cleaning using technologically-superior cleaning machines," states Matthew Baratta, spokesperson of Daimer Industries, Inc.®. "Daimer® is very pleased to announce the launch of a superior quality pressure washer machine that can safely deep clean and bring a shine to an automobile's paint, chrome trim, and wheels. The system is excellent to target windows, tires, and all other visible components as well. The Super Max™ 15800 helps cleaning professionals effectively eliminate bug splatters, mud, dirt, tree sap, and most other deposits easily, and without the manual scrubbing auto detailing pros often face without advanced technologies like ours."



Daimer® is the leading supplier of high-tech cleaning machines that are used within most industries worldwide. Daimer® machines feature the most modern, productivity-enhancing technologies and are durable enough to handle virtually all kinds of commercial cleaning tasks. Many recognizable international and national firms trust in Daimer® machines for their ruggedness, multi-functionality, reliability, superior designs, easy maintenance, and superior technologies.



Traditionally, auto detailing experts have used products, such as detergents, acids, degreasers, and more, such as brushes and cloths, for maintaining car exteriors http://www.carautodetailingusa.com/exterior-auto-detailing-buyers-guide.html. The process is terribly time consuming, requires too much manual effort, and does not provide the type of superior cleaning results they desire. Excessive scrubbing and the use of harmful chemicals can even result in paint damage. Daimer®'s Super Max™ 15800 cleans efficiently with the power of pressurized hot water or Super-Hot™ steam without damaging the vehicle's paint.



The machine's Thermal Optimized Projection Steam™ (TOPS™) technology creates a forceful and high temperature steam flow for fast and greener cleaning. High temperatures are reached within just 30 seconds, due to the availability of a heavy-duty schedule 80 heater exchange coil. Users can even add eco-friendly chemicals to the machine through its high pressure injection feature.



For fast cleaning, the top-quality industrial pressure washer can also be purchased with two gun operation. The machine can be operated by two users at the same time with this feature. Apart from cleaning the exterior surfaces of vehicles, the Super Max™ 15800 hot water pressure washer http://www.daimer.com/pressure-washers/super-max-15800.htm is ideal for those commercial/industrial applications that are involved in metallic powder coating, and/or require sandblasting capability. The applications are virtually unlimited.



In addition, the expertly-designed commercial pressure washer's with Long Hose Technology™ (LHT™) http://www.daimer.com/commercial-pressure-washers/ offers extra convenience by offering optimal power even when using hoses up to 300 feet in length while optional Automatic-Shutoff Technology™ (AST™) shuts off the machine automatically when left idle for 30+ seconds. Users do not need to return to power the high-grade hot water pressure on or off, until they the job is done. The 15800 can be easily powered back on by simply pulling the trigger gun.



The multi-purpose car wash equipment http://www.carautodetailingusa.com/best-car-wash-equipment.html, featuring a heavy duty 5.0 HP – NEMA engine, comes with a standard power method of 220V-240V, single phase, 60 Hz, while optional power methods of 220V-240V, single phase, 50 Hz; 220V-240V three phase, 50 or 60 Hz; & 440V, three phase, 50 or 60 Hz are also available. For worldwide use, Daimer® supplies its high-performance pressure washer systems with multiple power configurations.



Daimer®'s Modular System Design™ (MDS™) and Self-Maintenance Engineering™ (SME™) technologies, integrated in its pressure cleaners, allow for easy replacement of the parts, in rare cases, when needed. The self-maintenance features of Daimer® machines make them the best pressure washer systems in the industry.



The rugged gas pressure washer, with a heating fuel capacity of nine gallons for optional heating oil, kerosene, or diesel, comes with a variety of accessories, such as a durable 3' trigger wand with quick disconnect, 0º (blast), 15º, 25º, 40º, steam nozzles, and a 50' high pressure steam hose. Longer hoses are available for purchase as well.



For Additional Information:

Gain more knowledge about the Super Max™ 15800 by contacting Matthew Baratta directly on (888) 507-2220 or by visiting Daimer®'s website. Daimer® machines are shipped to many countries globally.



About Daimer Industries, Inc.®:

Daimer Industries, Inc.® is the most renowned brand of technologically-advanced cleaning machines, such as chewing gum removal systems, hard surface cleaners, vapor steam cleaners, tile and grout cleaners, pressure cleaners, and many more.