Steam Pressure Washer cleans and maintains parking lots.
Press Release Summary: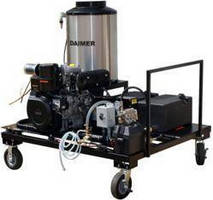 Driven by 25.2 hp diesel engine, Super Max™ 12885 DE delivers pressure up to 3,500 psi with flow rate of 5 gpm and temperatures as high as 330°F for dissolving stubborn deposits of dirt in outdoor areas. Heavy-duty Schedule 80 heating coils heat water to high temperatures within 30 sec, while Super-Hot™ technology allows for ejection of continuous steam during longer periods of use. For increased efficiency, operators can add chemicals to system through high-pressure upstream injection.
---
Original Press Release:

Daimer Super Max Pressure Washer Announced For Parking Lot Cleaning & Maintenance



Daimer Industries, Inc.®, the industry's leading United States brand of industrial cleaning equipment for those seeking seriously rugged machines, including mobile gas pressure washer systems, portable electric pressure washer machines, commercial car wash equipment, water damage restoration equipment and many others, has unveiled the Super Max™ 12885 DE for cleaning parking lots and most other outside ground surfaces. The equipment is among the company's most powerful diesel pressure washer system and offers an outstanding pressure level of 3500 psi and flow rate of 5 gpm. The machine is ideal for cleaning outdoor areas, like parking lots, where electricity is not available.



Daimer® is a world-renowned supplier of professional pressure washing equipment. The company is well known for its expertise, extensive experience, engineering prowess, and creative, robust designs not only for its primary offerings, but also custom machines as well for the military, government, oil companies, power plants, and many others. The company serves most markets globally, shipping over 400 models of power washers throughout the United States, Canada, and over 240 countries. Daimer® continues to strive to make innovative equipment, including such products as its sophisticated car washing machine models, and plans to release more models shortly.



"Many cleaning professionals only clean the buildings' interiors and exteriors, but do not focus as much on parking lots. Shopping malls, apartment buildings, and office and industrial parks have huge parking areas that often get very dirty with heavy deposits of grime, grease, and dirt," states Daimer Industries, Inc.® spokesman Matthew Baratta. "Daimer® is delighted to announce the launch of a highly rugged machine that offers up to ten times greater cleaning power than conventional machines for cleaning parking lots. The stainless steel and powder-coated, high gloss, chip/chemical resistant housing of the Super Max™ 12885 DE commercial pressure washer enables it to withstand tough commercial applications."



The Super Max™ 12885 DE steam hot water pressure washer from Daimer® creates temperatures as high as 330ºF for dissolving stubborn deposits of dirt that cannot be removed easily with cold water versions. Daimer®'s Super-Hot™ technology allows for the ejection of continuous hot steam during longer periods of use. Hot steam at high pressures blasts away all kinds of dirt buildup from parking spaces. The machine's heavy-duty schedule 80 heating coils heat water to high temperatures within just 30 seconds.



The system offers three temperature settings: hot water, cold water, and wet steam. Operators can choose the desired temperatures as per the cleaning requirements. Changing the temperature is simple and takes merely seconds.



The solidly constructed pressure washer system includes a heavy-duty 25.2 HP diesel engine that can handle virtually all types of commercial cleaning tasks. Cleaning contractors can easily mount the stationary-enabled industrial pressure washer system on trucks or trailers while handling outdoor cleaning applications. The company can offer the configuration on a skid at no extra charge when requested by the buyer at the time of purchase.



For increased efficiency, operators can add chemicals to the system through high pressure upstream injection, if required. Fortunately, Daimer® offers eco-friendly chemicals that do not do any harm to the environment, rather provide clean and germ-free surfaces. Downstream chemical injection is available at an options for those needing to apply higher acid or alkaline based chemicals.



Daimer® includes some very advanced technologies in its machines that not only make the cleaning process easy, but also enhance a cleaning professional's productivity. The optional Automatic-Shutoff Technology™ (AST™), for example, powers off the system automatically when kept idle for more than 30 seconds. It ends the need for operators to return 100' or more back to the equipment to turn it on and off. The machine automatically re-powers itself when users pull the trigger gun.



The AST™ becomes extremely useful when hoses up to 300 feet in length are used for cleaning large parking areas. In addition, the Long Hose Technology™ (LHT™), offered by the company, helps the machine to maintain maximum power while using such long hoses. The LHT™ allows for non-stop cleaning with minimal loss in pressure, and no change in temperature and flow rate.



Daimer® machines are highly regarded for their extreme durability and reliability. Customers prefer Daimer® machines over other brands, as the company uses the best quality materials and components for the construction of its products. All of its machines' parts are made of durable stainless steel. Moreover, the company's Modular System Design™ (MDS™) and Self-Maintenance Engineering™ (SME™) technologies make it easy for its customers to replace a part, whenever necessary, anywhere on the word. No pro service person is necessary.



Daimer®'s Super Max™ 12885 DE hot water pressure washer comes with accessories, such as durable 3' trigger wand with quick disconnect, 0º (blast), 15º, 25º, 40º, steam nozzles, and 50' high pressure steam hose. Customers have an option to purchase pressure hoses of additional lengths for cleaning large areas.



For Additional Information:

Call Matthew Baratta at (888) 507-2220 or visit Daimer®'s website to learn more about the Super Max™ 12885 DE commercial pressure washer. The machine is shipped globally to customers in more than 240 countries worldwide.



About Daimer Industries, Inc.®:

Daimer Industries, Inc.® is the most reputed supplier of cleaning equipment with exclusive technologies. More than 700 models of portable floor cleaning machines, electric pressure washer systems, gas pressure washer machines, carpet cleaners, gum removal equipment, hard surface cleaners, tile and grout cleaners, and auto detailing equipment are supplied to customers in hundreds of nations across the globe. Some of the cleaning applications targeted by these machines include conveyor belt cleaning, maintaining carpeting in restaurants, metal equipment cleaning, sanitizing hospitals, bed bug removal, interior and exterior auto detailing, and many more.



Contact:

Matthew Baratta, Daimer Industries, Inc.®

16 Tower Office Park,

Woburn, MA 01801

http://www.daimer.com

http://www.facebook.com/DaimerInc

http://twitter.com/daimer_inc

http://pinterest.com/daimerinc/

matt@daimer.com

(888) 507-2220

More from Laboratory and Research Supplies and Equipment