Steam Heaters protect field instrumentation.
Press Release Summary: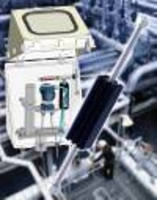 Offering choice of vertical, horizontal, or panel mount styles, STEAM series is available with 4 power outputs from 65-490 W and suits enclosure-scale freeze/condensation protection or temperature maintenance applications. Products are developed from anodized aluminum, finned convection heater profiles and suited for use in refineries and other plants. Steam heating elements come with press-fitted 12 mm OD stainless steel tube for connection to steam/hot water service line.
---
Original Press Release:

Compact Steam Heaters Provide Comprehensive Design Choices for Field Process Instrumentation

mounting flexibility provides optimized choices for common enclosure protection needs

Sarnia, Ontario ... Intertec has developed a new range of steam heaters for field instrumentation protection applications. Offering a choice of vertical, horizontal or panel mounting styles, with four power outputs ranging from around 65 to 490 W, users can easily select the appropriate heater for all common enclosure-scale freeze/condensation protection or temperature maintenance applications.

The new STEAM range has been developed from the most popular sizes of finned convection heater profiles in Intertec's electrical heater range. These Intertec-designed anodized aluminium profiles have all been field-proven in enclosure heating applications over many years, and in many tens of thousands of applications.

Steam heating is still employed in many refineries and other plants, because steam energy is produced as a byproduct of the core process, and because it is a simple alternative to electric heating.

Two of the options in Intertec's new steam heater range are designed to mount vertically to provide convection heating. They are physically compact and suitable for smaller-scale heating requirements: in freeze protection applications the outputs are typically 65 and 130 W respectively when used on typical lines offering steam at a pressure of three bar and a temperature of 130 degrees C. A third convection option is designed to mount horizontally and provides a typical output of 490 W. The fourth element has both flat and finned sides to allow it to be mounted against a panel or on the side of equipment; it delivers around 200 W of combined convection and conduction heating output, providing a useful design alternative for some process applications. The sizes of the four heaters are 2 x 2 x 6.1 inch, 3.15 x 3.15 x 8.8 inch, 8.8 x 8.4 x 4 inch, and 2 x 8.4 x 8.8 inch.

The steam heating elements are identical in size to those used in Intertec's long-established electrical heating range, but come with a press-fitted 12 mm OD stainless steel tube for connection to the steam/hot water service line. This compatibility simplifies the configuration of an environmentally-protected enclosure, allowing users to work through the specification process in exactly the same manner regardless of whether steam or electrical heat sources will be employed: choosing the style and size of enclosure, calculating the power requirements, and selecting the right shape and size of heating element. The new products complement an existing selection of finned tubes that Intertec offers for small-scale freeze protection applications.

The heating elements may also be used with hot water lines, and for temperature maintenance up to typically 40 degrees C when used with a thermally-actuated control valve. This stainless steel accessory is tamperproof, and can maintain a desired set-point temperature to within typically +/- 1 degree. Further accessories available to support the new heaters include steam traps.

In addition to supplying steam heater components to instrumentation engineers and system builders, Intertec is able to supply complete pre-fabricated 'hook-ups' for field-based plant instrumentation - based on proven designs. The turnkey service covers the complete concept-to-installation process including engineering design, assembly and on-site delivery. A typical application is a field instrumentation node such as pressure or differential pressure transmitter(s) - supplied complete with manifold, tubing connections, plus the appropriate style of enclosure and environmental protection.

This approach can often improve the performance, and reduce the lifecycle costs, of field instrumentation because of the proven nature of the designs used, and the use of a modular range of building-block components. Intertec has a very large database of designs covering all common field instrumentation applications. These protection systems are fabricated using proven components and layout principles that reduce the variability of instrument installation and provide a site standard - greatly simplifying ongoing maintenance.

A datasheet on the new steam heaters can be downloaded from: intertec.info/common/pdf/en/HD530e.pdf

More from Electrical Equipment & Systems