Cleaning Compounds and Chemicals
Steam Cleaners target airports and similar areas.
Press Release Summary: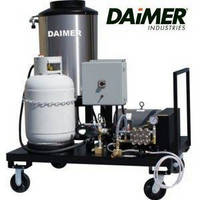 Producing up to 3,000 psi at flow rate of 5 gpm, Super Max™ 12300 tri-mode pressure washers offer temperature levels up to 330°F for wet steam. Electric powered and propane heated machines, which use direct spark ignition and come with 50 lb propane tank, also support hot water temperature of up to 210°F; heater converts cold to hot water in ~30 sec. Multi-faceted grout steamer offers unheated operation as well as hot water cleaning, and vapor steam cleaner is driven by 10.0 hp NEMA motor.
---
Original Press Release:

Daimer Offers Sophisticated Steam Cleaner Machines for Enhanced Cleaning of Airports and Similar Facilities



Daimer Industries, Inc.®, the globe's most trusted and popular American brand and supplier of robust steam cleaner systems, commercial car wash machines, top-notch floor cleaning machines, and many more highly advanced systems and technologies, is now shipping Super Max™ 12300, the super-efficient steam cleaner machines. The equipment is a powerful professional steam cleaner system that offers high pressure levels http://www.daimer.com/steam-cleaners/ of up to 3000 PSI at a flow rate of 5 GPM.



"Cleaning staff at airport terminals work under tremendously tight deadlines and are responsible for cleaning the premises in sparkling clean condition at all times, which is possible only by using powerful and sophisticated cleaning systems," says Daimer Industries, Inc®. spokesperson, Matthew Baratta. "Daimer® is proud to present the Super Max™ 12300, designed to target cleaning in airports and similar areas."



The tri-mode pressure washers feature high temperature levels that can reach up to 330°F for wet steam cleaning that target removal of tough, unyielding stains from airport floors http://www.steamcleanersmachines.com/blog/2012/01/top-steam-cleaners-for-cleaning-floors/. The electric powered and propane heated steam cleaner machines use a direct spark ignition and come with a 50 pound empty propane tank.



The Super Max™ 12300 http://www.daimer.com/pressure-washers/super-max-12300.htm also supports hot water temperature of up to 210°F. A powerful heater converts cold to hot water in just about 30 seconds. The professional steam cleaner works on heater exchange systems with schedule 80 coils and direct spark ignitions. The multi-faceted grout steamer offers unheated operation as well as hot water cleaning and the highest temperature option.



The high-tech vapor steam cleaner is driven by a heavy-duty, 10.0 HP-NEMA motor. The machine uses 220V-240V, three phase, 60 Hz standard power method. Optional power methods of 220V-240V three- phase, 50 or 60 Hz; and 440V, three-phase, 50 or 60 Hz are also available on request for international users. The machines come with one power cord. The shaft driven water pumps are protected by a five-year warranty offered by Daimer®.



The technologically advanced steam cleaners have a small footprint, commercial-grade wheel mechanisms and all the power needed for working in high traffic areas. The Super Max™ 12300 steam cleaner machines are shipped with industrial-caliber, quick-release trigger wands. The wheeled truck-mount features ensure excellent portability for quick coverage of large floor areas of the airport http://www.daimer.com/large-area-floor-cleaning-machines/. They can also be trailed-mounted. Daimer® also offers an optional multi-gun operation feature for simultaneous use by multiple operators and a wet sandblasting system with the 12300.



The grout steamer includes the company's proprietary LHT (Long Hose Technology) that provides unfailing and steady pressure across hoses that are as long as 295 feet. A pressure washer without this feature can lose significant cleaning power when connected to a long hose.



For More Information:



For more details about Daimer® water pressure washer machines, hot water pressure washer equipment or gas pressure washer add-ons, visit the company's official website or call Matthew Baratta at (888) 507-2220. The various models of cleaning machines from Daimer® http://www.daimer.com/ are shipped to numerous countries globally.



About Daimer Industries, Inc.®:



Daimer Industries, Inc.® is a major supplier and worldwide exporter of the cleaning industry's leading line of KleenJet® steam cleaners; Super Max™ commercial and industrial pressure washers, including cold water, hot water, and steam pressure washing machines; and XTreme Power® floor cleaners, including carpet cleaners and hard surface cleaners.



Blog: http://steam-cleaner-machines.blogspot.com/

Watch Videos: http://www.youtube.com/Daimerindustries

More from Architectural & Civil Engineering Products