Steam Cleaners bundle filtration and sanitizing features.
Press Release Summary: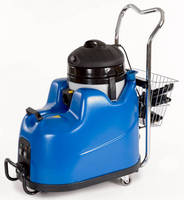 To combat germs, deodorize, and purify indoor air, KleenJet® Supreme 3000CVP machines feature water and HEPA filtration as well as ATIS® anti-bacterial technology. Integral water filtration unit, during stage one, applies water-based agitation technology to trap particles and store them in 14 L extraction tank. In stage 2, 3 micron HEPA filtration removes contaminants. Areas of use include hospitals, nursing homes, hotels, and restaurants.
---
Original Press Release:

Steam Cleaners Bundle Filtration, Sanitization into One Mid-Priced Unit



Daimer®'s KleenJet® Supreme 3000CVP line offers two technologies that combat germs and purify indoor air.

WOBURN, MA, U.S.A. -- Daimer Industries, Inc.®, known globally for their sanitizing steam cleaners, has introduced the KleenJet® Supreme 3000CVP line of mid-priced machines featuring water and HEPA filtration, as well as the companies anti-bacterial ATIS® technology.

"The 3000CVP offers maximum sanitizing in one of our best steam cleaner machines in this price range - what we like to call the pricing sweet spot," announced Daimer.com KleenJet® spokesman Matthew Baratta. "These machines are engineered to kill germs, deodorize, and remove allergens and other unhealthy particles from the air."

Steam Cleaners with Two Sanitizing Capabilities

Daimer®'s KleenJet® 3000CVP steam cleaners have enhanced the cleaning power of its institutional vacuum systems with a dual-stage filtering system that removes smells, dirt, and unhealthy particles.

During stage one, the 3000CVP's water filtration unit applies a water-based agitation technology to trap particles and store them in a 14-liter extraction tank.

Stage two employs 3 micron HEPA filtration to remove the smallest contaminants. These particles include allergens from dust mites and pollen known to aggravate asthma, breathing problems, and other health issues.

ATIS® is an EPA-compliant, ionic-based anti-biological technology that has been proven in lab tests to kill common house-hold germs, such as staph, salmonella and E. coli. These steam cleaners are designed for use in hospitals, nursing homes, hotels, restaurants and other environments where maximum sanitization is required.

For additional information about Daimer®'s steam cleaners, portable steam cleaners or other steam products visit www.daimer.com/steam-cleaners/ or call Matthew Baratta at (888) 507-2220. The steam cleaner machines are available to customers in most countries. Minimum order quantities may apply.

About Daimer Industries, Inc.®: Daimer®, www.daimer.com, is a major supplier and worldwide exporter of the cleaning industry's leading line of KleenJet® steam cleaners/vapor steam cleaners/steam cleaning equipment; Super Max(TM) commercial and industrial pressure washers, including cold water, hot water, and steam pressure washing machines; XTreme Power® floor cleaners, including carpet cleaners, hard surface cleaners, and floor buffers/scrubbers/burnishers; and the line of Micro-Blasting® Eco-Green® environmentally friendly cleaning products that employ unique technologies and a patented, proprietary chemistry.