Steam Cleaner Vacuum helps control infection in hospitals.
Press Release Summary: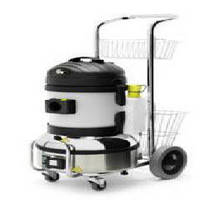 Certified to destroy up to 99.99% of harmful bacteria, KleenJet® Mega 1000CVP - ATIS® offers temperatures up to 356°F and pressure levels to 105 psi. Multipurpose unit, utilizing Advanced Thermal Ionic Sanitization™ (ATIS®) technology, injects high-temperature steam and strong vapor flow to clean diverse surfaces. HEPA filter helps capture most particulate deposits up to 3 microns, and Continuous Refill technology lets operator add water to machine at any time without powering it down.
---
Original Press Release:

Daimer Releases Vapor Steam Cleaner For Infection Control in Hospitals



Daimer Industries, Inc.®, an American company and internationally renowned brand name in commercial and industrial steam cleaner systems, including over 600 of the industry's most environmentally-friendly carpet steam cleaner models, vapor steam cleaner machines, and superior pressure washer configurations sold to customers within over 200 nations across the globe, is shipping its KleenJet® Mega 1000CVP - ATIS®. The feature-rich commercial steam cleaner system, within which is integrated the company's cutting-edge, patent-pending Advanced Thermal Ionic Sanitization™ (ATIS®) technology, has been independently certified to destroy up to 99.99% of harmful bacteria by one of the most prestigious testing laboratories in the United States.



"Healthcare facilities constantly face the risk of infections spread by 'super bugs' that are becoming more and more immune to most commercial disinfectants. Failure to spend enough time to thoroughly clean germ buildup on different surfaces is a great contributing factor in the spread of virulent bacteria," says Matthew Baratta, spokesperson of Daimer Industries, Inc.®. "Daimer® is pleased to offer a powerful disinfecting steam cleaner vacuum offering temperatures up to 356°F and pressure levels up to 105 psi. The steam machine will be instrumental in helping to keep most hospital surfaces clean, sanitized, and considerably healthier for staff, patients and visitors."



Daimer®'s KleenJet® Mega 1000CVP - ATIS® versatile multipurpose steam cleaner offers unmatched cleaning power by injecting high temperature steam and strong vapor flow along bed rails, furniture, bathroom fixtures, walls, floors, counters, operating tables, wheelchairs, restrooms, clean rooms, and virtually unlimited surfaces. The Super-Hot vapor steam generated by the system offers excellent results in high performance tile and grout cleaning as well as spot cleaning accidental spills on upholstery, and is excellent for cleaning and maintaining mattresses.



The Centers for Disease Control and Prevention (CDC) reported approximately 1.7 million cases of Healthcare-associated infections (HAI) in the period from June 2011 to June 2012. Almost 99,000 of those infected succumbed to death after an average of 12 days of hospitalization. The medical costs of healthcare related infections in the United States amount to around 45 billion dollars every year.



Studies show that a major share of HAIs can be easily averted by implementing effective cleaning techniques in hospital facilities. Cleaning experts recommend using proven, anti-microbial vapor steam cleaner systems capable of generating steam at exceptionally high temperatures to deep clean surfaces.



Eliminating allergens and germs is of supreme importance within healthcare settings. Daimer®'s KleenJet® Mega 1000CVP - ATIS® commercial steam cleaner is empowered with a special HEPA filter that helps capture most particulate deposits up to a miniscule 3 microns in size. Such substances as pollen, dust mites, dirt, bed bugs and other allergens from surfaces cannot escape the Mega 1000CVP - ATIS®' exclusive HEPA and Water Capture feature, which collects the particles during the extraction process for easy disposal. The leading edge steam vacuum cleaner extraction chamber takes seconds to remove, and the water can be poured into a toilet or down a drain.



Daimer® KleenJet® Mega 1000CVP - ATIS® high performance portable steam cleaner offers the company's superior Continuous Refill technology, which allows the operator to add water to the machine at any time without the need to power it down. Other brands in the industry fall short by offering steam cleaners that feature pressure caps. Their machines must be depressurized prior to cap removal, and reheating can take up to a disheartening 40 minutes, which can reduce productivity dramatically.



The steam cleaner comes with over 36 parts and accessories designed to enhance the efficiency and versatility of the machine. The system's features a lifetime boiler warranty and replaceable heating elements. Buyers can save up to and over $800 versus purchasing other brands' models, the boilers of which must be replaced in the event of heating elements failure.



For Additional Information:

For more details about the KleenJet® Mega 1000CVP - ATIS®, visit Daimer®'s website www.daimer.com/portable-steam-cleaners/ or contact Matthew Baratta directly at (888) 507-2220. The steam cleaning machines are marketed globally to most countries.



About Daimer Industries, Inc.®:

Daimer Industries, Inc.® is a world leading supplier of the most advanced and powerful cleaning systems, including carpet steam cleaner machines, industrial steam cleaner systems, floor steam cleaner equipment, industrial truck mount carpet cleaning equipment, reliable steam pressure washers, floor hard surface cleaning equipment, car wash equipment, and much more with unmatched, advanced technologies for most applications worldwide.

More from Packaging Products & Equipment