Steam Carpet Cleaner meets food service facilities' needs.
Press Release Summary: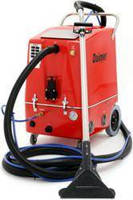 Optimized for low pile commercial carpeting, XTreme Power® XPH-9650 generates temperatures to 210°F within 5 min and pressures to 500 psi. Hoses, divided into 25 ft sections, can stretch up to 100 ft, and extra long hoses allow for cleaning up to 31,000 ft² without moving machine. Along with Low Flow functionality and XTreme-XTraction™ 12 in. wand technology, commercial system features 200 cfm airflow and 150 in. water column lift for accelerated drying and increased cleaning power.
---
Original Press Release:

Daimer Announces Steam Cleaner Carpet Cleaners for Food Service Facilities Needing Outstanding Power and Heat



Daimer Industries, Inc.®, the world-famous leading supplier of American produced cleaning systems and carpet cleaners, offering among the best carpet cleaner extractor equipment, heated carpet cleaning machines, commercial car wash machine models, and carpet steam cleaners, is announcing the XTreme Power® XPH-9650 for cleaning applications within food service settings. The machines are optimized for low pile commercial carpeting and generate temperatures as high as 210ºF and excellent pressure levels up to 500 psi.



Restaurants require rugged, carpet steam cleaners for removing the toughest of grease, oil, and food deposits within even the finest low pile carpeting. Portable dry steam cleaners emit vapor containing only 5% water, which is excellent for many hard surfaces, but they lack the pressure and moisture content necessary to clean carpets.



"Dirt-laden carpeting in food service establishments is not just a poor reflection on the business, but also creates disease-causing germs," states spokesperson of Daimer Industries, Inc.®, Matthew Baratta. "Daimer® is delighted to launch our powerful XTreme Power® XPH-9650 machine with its exclusive XTreme-XTraction™ technology. The company'senhanced carpet shampooer machine is ideal to maintain and deep clean large carpeted areas, due to its high temperature and pressure levels, and self-monitoring technologies. Restaurants with Daimer®'s equipment never need to use the cleaning services of professionals ever again."



The XPH-9650 commercial carpet cleaners from Daimer® come with hoses stretching 100', divided into 25' sections. Users can connect 25' increments to create 50' or 75' or 100', depending on the cleaning requirement. The extra long hoses can clean up to 31,000 square feet area without even moving the machine. The system can create temperatures as high as 210º F within just five minutes, given the inclusion of Daimer®'s rugged inline heating elements. Even the most successful professional cleaning contractors using powerful truck mount carpet cleaners do not even require more than 100' hoses for most cleaning jobs.



The XPH-9650 carpet cleaners come with Daimer®'s Low Flow functionality along with the company's patented XTreme-XTraction™ 12 inch wand technology. The wand includes an exclusive self-adjusting head that offers 60 percent better suction than other wands in the industry. The suction capability of the wand is equal to that of an additional vacuum motor. The special wand and Low Flow technology translate to drying times as low as two hours. The system can also be used as suction-optimized water damage restoration equipment.



Cleaning professionals generally use truck mount carpet cleaners that are essentially high flow pressure washers, which emit a much higher water flow, often times soaking the carpet padding. The drying times of these machines are generally up to 24 hours. Unfortunately, more water increases the risk of mold development. Fortunately, Daimer®'s XPH-9650 commercial carpet cleaners feature 200 CFM of airflow and 150 inch water column lift for rapid drying and increased cleaning power.



The two powerful three stage motors within all XTreme Power® XPH-9650 carpet cleaners, large recovery and water tanks, and auto fill and auto dump features further increase the cleaning efficiency and productivity. The auto fill and auto dump features end the need to manually refill the machine and dispose of dirty extracted water. The users simply attach a garden hose from a water line to the system's water chamber and another from the vacuum chamber to a drain or toilet. They can focus completely on cleaning.



In order to gain the most benefits from the machines, it is highly recommended by professional cleaning experts to pre-spray the carpets using a pump sprayer, then allow for a reasonable dwell time before using the equipment. During special promotions Daimer® offers its Eco-Green® Carpet Care solution free with its carpet cleaning machines for superior cleaning results. Two gallons of this concentrated liquid can clean as much as 64,000 sq. ft. of carpeting. The completely soap-free product is free of solvents and extracts immediately unlike conventional, soapy harmful chemicals that remain behind to attract dirt and other substances quickly.



For Additional Information:

Discover more benefits of the XTreme Power® XPH-9650 carpet cleaning machines by visiting the company's website or by contacting Matthew Baratta at (888) 507-2220. The equipment can be exported to most countries across the globe.



About Daimer Industries, Inc.®:

Daimer Industries, Inc.® www.daimer.com/ is the leading global provider of technologically-advanced cleaning systems, such as carpet cleaning equipment, portable carpet extractor machines, floor cleaning systems, steam cleaning machines, pressure washer systems, and many other products and models with patented technologies for worldwide applications.





http://www.daimer.com/news/pressview/271-year.2012_271-id.704644325.html



Contact:

Matthew Baratta, Daimer Industries, Inc.®

16 Tower Office Park,

Woburn, MA 01801

http://www.daimer.com

http://www.facebook.com/DaimerInc

http://twitter.com/daimer_inc

http://pinterest.com/daimerinc/

matt@daimer.com

(888) 507-2220

More from Controls & Controllers