Steadyline Turning/Boring Bars feature vibration dampening system.
Press Release Summary: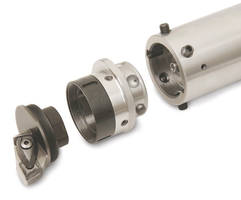 Turning/Boring Bars are available in 2.36 in. and 3.15 in. diameter sizes. Suitable for oil and gas applications, units feature a BA connection. Products come with BA adapter which is used to mount GL50 turning heads. Steadyline® is offered in 6xD, 8xD and 10xD bar sizes and in Seco-Capto™ C6, C8 and HSK-T types. Turning bars are equipped with coolant supply channels and boring heads.
---
Original Press Release:
Seco Offers New Steadyline® Tooling for Large Diameter Work
Seco Tools has expanded its Steadyline vibrationdampening tooling system to include large-diameter turning/boring bars that provide a reliable, plug-and-play solution for increased productivity in large and deep bore operations. The new 2.36" (60 mm) and 3.15" (80 mm)-diameter sizes are ideal for use in oil and gas applications as well as general machining of workpieces that require tool overhangs of up to 23.62" (600 mm) or 31.50" (800 mm) respectively.
The Steadyline large-diameter turning/boring bars feature a BA connection and incorporate a BA adapter to mount GL50 turning heads. Seco's patented and versatile GL connection features a polylobe taper-face interface for centering accuracy, 100 percent repeatability and fast tool head exchanges. The GL connection allows shops to perform both static and rotating operations with the same bar.
The advanced vibration dampening system of Steadyline tooling absorbs vibrations before they spread through the bar. Once a turning bar is set, users can mount and remount tooling heads without having to reset the tool.
Steadyline is available in 6xD, 8xD and 10xD bar sizes and in a range of types, including Seco-Capto™ C6, C8 and HSK-T. The system also features compact boring heads with the GL connection and both the bars and the heads feature coolant supply channels that optimize chip removal.
For more information on Seco's Steadyline vibration dampening solutions for larger diameters, please contact a local Seco representative or visit secotools.com.
About Seco Tools, LLC
Seco Tools, LLC is a leading provider of metalcutting solutions for milling, turning, holemaking and toolholding. The company prides itself on building close relationships with customers to effectively understand and address their needs. For more information on the company's products and services, please contact Bob Heery, Seco Tools, LLC, 2805 Bellingham Drive, Troy, Michigan, Tel: 248.528.5451, Email: bob.heery@secotools.com, visit www.secotools.com
More from Non-Industrial Products