STB Silicon Tuner complies with DVB-S2 specification.
Press Release Summary: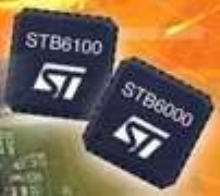 Backwards compatible with DVB-S broadcasts, STB6100 Set-Top Box (STB) silicon tuner can be used as part of DVB-S2-ready receiver. It enables manufacturers to use 32-lead package with minimal supporting components and is programmed through 2-wire serial interface. Used in combination with other coding and satellite technologies, product can increase number of standard or HDTV channels that can be broadcast in conventional transponder.
---
Original Press Release:

STMicroelectronics Adds Single-Chip DVB-S2 Silicon Tuner to its Satellite Set-top Box IC Family


Satellite receiver front-end is compatible with DVB-S and DVB-S2 standards, and will simplify design and minimize costs for STB manufacturers supporting the latest specification

Geneva, October 14, 2004 - STMicroelectronics (NYSE: STM) has announced the availability of a new Set-Top Box (STB) silicon tuner - the STB6100 - complying with the stringent requirements of the new DVB-S2 specification for satellite broadcasts. DVB-S2 increases the capacity of satellite communications links by 30% compared to the original DVB-S standard - close to the theoretical performance limit - enabling the most effective deployment of high data-rate applications such as HDTV (High Definition TV) and broadband Internet.

ST is the world's largest supplier of silicon chips for set-top boxes* - across satellite, cable, and terrestrial services - and was closely involved with the DVB (Digital Video Broadcasting) technical groups working to optimize the DVB-S2 specification. In May 2004 the company announced the development of a modulator design compliant with the new standard, which it is making available to broadcast equipment manufacturers to enable them to introduce equipment capable of broadcasting DVB-S2 signals to 'kick-start' the market for DVB-S2 receivers. The introduction of the STB6100 tuner, developed in cooperation with RF Magic Inc., an expert in broadband RF silicon solutions, builds on ST's initiative.

The STB6100 is backwards compatible with current DVB-S broadcasts and can be used today as part of a DVB-S2-ready receiver. With price an overriding concern for STB consumers, the new device allows manufacturers to minimize their costs by using a single 32-lead package, with few supporting components, in place of the complex traditional discrete tuner circuitry. In addition, it eliminates the need for specialist RF expertise as the RF processing circuitry is integrated onto the chip. The STB6100 is programmed through a simple two-wire serial interface, and is intended for use with an 8PSK demodulator chip.

In combination with other new coding and satellite technologies, DVB-S2 has the potential to provide a significant increase in the number of standard or HDTV channels that can be broadcast in a conventional transponder, as well as to dramatically reduce the price of satellite capacity.

"The availability of the STB6100 confirms ST's commitment to develop and promote products that support the DVB-S2 standard," said Christos Lagomichos, General Manager of ST's Home Entertainment Group. "The new device allows our customers to design simpler and more cost effective products while benefitting from the increased capacity offered by DVB-S2 broadcasts."

The DVB-S specification now used by satellite operators worldwide for television broadcasting and data transmission was introduced ten years ago. DVB-S2 benefits from more recent developments in channel coding and modulation, and provides significantly increased capacity; with capacity very close to the so-called 'Shannon Limit' which describes the maximum possible efficiency of error-correcting methods. As well as the normal QPSK (quadrature-phase-shift-keying) modulation of DVB-S, the DVB-S2 specification allows for 3 bits per symbol, using 8PSK modulation, at approximately 80-Mbit/s information rate, with Low Density Parity Check (LDPC) as the Forward Error Correction code.

The STB6100 will be available in production volumes in January 2005 at a price of $3 when purchased in high volumes.

About STMicroelectronics

STMicroelectronics is a global leader in developing and delivering semiconductor solutions across the spectrum of microelectronics applications. An unrivalled combination of silicon and system expertise, manufacturing strength, Intellectual Property (IP) portfolio and strategic partners positions the Company at the forefront of System-on-Chip (SoC) technology and its products play a key role in enabling today's convergence markets. The Company's shares are traded on the New York Stock Exchange, on Euronext Paris and on the Milan Stock Exchange. In 2003, the Company's net revenues were $7.24 billion and net earnings were $253 million. Further information on ST can be found at www.st.com.

* In-Stat/MDR - MPEG Video ICs: The Promise of MPEG-4 - June 2004 (Report Number: IN0401230MI)

STMicroelectronics, Inc.
Lexington Corporate Center
10 Maguire Road
Bldg. 1, 3rd Floor
Lexington, MA 02421
(781) 861 2650

More from Cleaning Products & Equipment