Miscellaneous Storage Equipment
Stationary Tool Storage Rack stores up to 500 HMC tools.
Press Release Summary: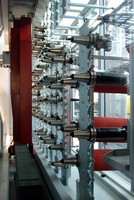 Matrix Tool Magazine allows Toyoda HMCs to be tooled for more part numbers, keeps back up tools on hand, and eliminates trips to tool room. Along with PC-based software, product comes with tool identification and monitoring capabilities as well as OP Supporter software. Its 4-position revolving disk keeps next tool ready and waiting for machine's tool-changer arm. Magazine handles tools up to 59.4 lb that measure up to 21.6 in. long and 9.84 in. in diameter.
---
Original Press Release:

New Stationary Tool Storage Rack Stores up to 500 Tools on Toyoda HMCs



Arlington Heights, IL - Toyoda Machinery's Matrix Tool Magazine is a large capacity, stationary tool storage rack that accommodates up to 500 tools. It allows Toyoda HMCs to be tooled for more part numbers, keeps back up tools on hand, and eliminates time-consuming trips to the tool room.

The Matrix Tool Magazine has several features to maximize ease of use, including PC-based software, tool identification & monitoring, and OP Supporter software. Its compact design houses a huge array of tools in a relatively small footprint, and is about the same height as the machine itself. The Matrix magazine handles large tools up to 21.6" in length, 9.84" in diameter, and weighing 59.4 lbs.

The magazine's four-position revolving disk keeps the next tool ready and waiting for the machine's tool-changer arm. This eliminates any delay, even after a short machining cycle. The operator can access a fully secure, carousel-style rack to load tools without interrupting magazine operation. Tools are delivered to the work area by a high-speed servo-driven transfer robot.

The PC-based software shows a layout of the entire Matrix magazine, with easy-to-use touch-screen navigation. A second touch on any tool will display detailed information and an image for that specific tool. The magazine controller reads the part program to pre-select and display the needed tools. Continuous monitoring of the magazine, loading station and revolver keeps track of every tool.

Toyoda's OP Supporter software enhances tool management by providing a convenient overview of the magazine at the machine CNC. This confirms that the right sub-programs and tools are ready for each job. Tool change speed is automatically adjusted according to weight for optimal cycle time.

The Matrix's optional touchless tool identification stores tool-specific information onto a tiny computer chip embedded in each tool holder. This allows information to be retrieved after a tool change for uninterrupted production.

For more information or to learn how the Matrix Tool Magazine can keep you operating at peak efficiencies, visit the Toyoda booth A-8018 at IMTS.