Static Transfer Switch transfers loads from independent UPSs.
Press Release Summary: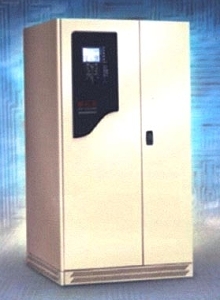 Available in 200, 400, and 600 input current models, Epsilon Static Transfer Switch provides uninterrupted operation of electronic equipment. Able to provide for 5 to 6 nines of reliability, switch offers digital controls, Field Programmable Gate Array technology, and fault-tolerance. With 300% overrated Silicon Controlled Rectifier disc power assembly, solid copper bussing, and fuseless current path, unit can transfer loads from 20-500 rack-mounted PC servers.
---
Original Press Release:

MGE Introduces Static Transfer Switch To Assure Redundant AC Power Availability for Critical Power Applications


New Epsilon Static Transfer Switch Automatically Transfers Loads Between Independent UPSs

COSTA MESA, Calif. - August 12, 2002 - MGE UPS SYSTEMS, a global leader in high-availability power solutions, today introduced its new Epsilon STS (Static Transfer Switch) that ensures power availability to mission-critical process control, manufacturing, industrial networks and other power-critical loads. The new Epsilon STS provides rapid switching between two independent AC power sources for uninterrupted operation of electronic equipment. Continuous power is a "must have" in today's industrial infrastructure. Deploying redundant Uninterruptible Power Supplies (UPSs) is only part of the power source equation. State-of-the-art power distribution must be in place to ensure absolute power availability.

Large manufacturing and control facilities often have a number of autonomous and heterogeneous power sources, including transformers, engine generator sets, UPSs, etc. The new Epsilon STS improves power quality and availability by creating a dual power source architecture that provides five to six nines of reliability demanded by modern critical environments. The Epsilon STS's digital controls also give the facility manager the ability to customize specific switching requirements to meet the exact tolerances of their application. The new Field Programmable Gate Array (FPGA) technology used on the Epsilon STS's controller, quickens the time to detect faulted sources making the overall transfer process between sources rapid and unnoticeable to sensitive loads.

Designed to be truly fault-tolerant, the system safely clears short circuit faults with ease due to a 300 percent overrated Silicon Controlled Rectifier (SCR) disc power assembly, solid copper bussing and a fuseless current path which earn the Epsilon STS a 100 kAlC fault certification. All internal assemblies are placed in draw-out or hinged panels for rapid, front access.

The Epsilon STS is available in 200, 400 and 600 input current models and is capable of transferring loads from 20 to 500 rack-mounted PC servers. Boasting the smallest footprint in the industry, the innovative transfer switch can be used in conjunction with a power distribution system, such as MGE's Power Management Module, with 126 possible connections per module - enough capacity to supply up to 12 racks with 42 optimized 1U servers.

With the need for six 9's or better of reliability in today's power hungry facility networks, the Epsilon STS performs transfers in three to four milliseconds and uses a unique "break before make" technique to ensure that power sources are never in parallel during transfer. This function eliminates the risk of fault propagation between the two sources - a must for high-availability installations.

At the heart of the STS is a failsafe logic system featuring the latest generation Field Programmable Gate Array (FPGA) circuitry to assure reliable source transfers under all conditions. Isolated triple-redundant power supplies, fan array and an inherently safe operating architecture fortify this logic circuitry.

The Epsilon STS also includes an intuitive graphical front panel display with LED mimic diagram simplifying the operation even for the novice user.

To facilitate a high-level of communications, the Epsilon STS supervisory and communication functions incorporate Jbus/Modbus and dry-contact communication cards with the ability to add two additional cards and an optional Ethernet SNMP port. This together with MGE's Monitor Pac(TM) supervision software, that administers all MGE equipment on the network, allows immediate information and notification of system performance to be readily available to the facility manager.

The Epsilon STS holds UL 1008 and IEEE 587/ANSI C62.41 certifications and is FCC compliant. Available now, the new Epsilon STS pricing starts at $40,000 and is supported by MGE's extensive field service organization that includes over 120 field service engineers located in every major city across the U.S.

About MGE:

MGE UPS SYSTEMS is a global provider of power quality solutions designed to increase the availability and uptime of any mission-critical application or process. From desktop PCs to large Data Centers and telecommunication facilities to semiconductor manufacturing plants, MGE's UPS product and service solutions are deployed around the globe.

For over 35 years, MGE UPS SYSTEMS products have been the choice of the world's largest and most demanding companies and organizations. Always ready to satisfy new needs, MGE UPS SYSTEMS together with its 37 subsidiaries, 150 sales and customer service offices and production facilities in Europe, the USA and Asia as well as two R&D centers - in Grenoble, France and Costa Mesa, California, MGE can easily meet customer expectations throughout the world.

To learn more about MGE's innovative power protection solutions, visit MGE's Web site at: www.mgeups.com or call MGE at 800-523-0142.

More from Architectural & Civil Engineering Products