Static Monitoring System is used on Type C FIBCs.
Press Release Summary: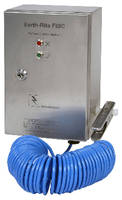 Approved to FM and ATEX standards, Earth-Rite® FIBC grounding systems constantly monitor Type C Flexible Intermediate Bulk Containers (FIBCs) and similar semi-conductive containers to ensure their anti-static features are within correct specifications and achieving constant positive ground connection. Fail-save interlock design allows product transfer only when resistance through container is less than 1x10
8
W. Unacceptable readings render system inoperable.
---
Original Press Release:

FM & ATEX Approved Static Monitoring/Interlock System Protects in Flammable/Explosive Atmospheres



The danger of fires and explosions posed by a build-up of static electricity when filling or discharging material from Type C Flexible Intermediate Bulk Containers (FIBCs) and similar semi-conductive containers is controlled by the use of the Earth-Rite® FIBC grounding system from Newson Gale Inc. The FM and ATEX approved systems constantly monitor Type C containers (SuperSacks) and similar containers, ensuring that the containers' anti-static features are, in fact, within the correct specificaions and achieving a constant positive ground connection.

While most Type C containers feature a conductive construction to deal with static build-up, they do not provide positive assurance that build-up will not occur since external factors might also be involved. For example, the grounding clamp may not be attached properly or the conductive fibers of the bag could have been damaged in prior use. And, it is also possible that the container itself may not be appropriate for the application at hand.

The Earth-Rite FIBC system provides verification that the bag's anti-static construction is functional and that it is, in fact, correctly grounded. The fail-save interlock design will allow product transfer only when the resistance through the container is less than 1x108 Ohms. While Type C FIBC applications are most common applications, the system can also be used to monitor similar static dissipative materials such as drum linings, kegs, hoses, etc.

Should unacceptable readings be registered an alarm signal LED is lighted and the system remains inoperable, ensuring that safe operating procedures are followed. Readings are taken through a special insulated monitoring clamp attached to the conductive ground loop of the FIBC. To suit various types of filling/discharging machinery the system is offered in two formats: one which monitors resistance between the grounded lifting loops and a clamp attached to ground, and another monitoring resistance between two separate clamps with respect to ground. Since the Earth-Rite FIBC system is approved Intrinsically Safe by FM (Class I, II, III: Div 1 & 2; Groups A, B, C, D, E, F, G) and ATEX (EX II 1 GD EEx ia IIC TF) it is suitable for use in virtually all environments where flammable, cumpustible or explosive atmospheres are present. In addition, a selection of special FM and ATEX approved grounding clamps are avaible with design features to make them fully compatible with flexible or semi-rigid semi-conductive materials. Units are available in 110/120V or 220.240V power supply options with NEMA 4X / IP 65 water and dust-tight enclosures.

Earth-Rite® FIBC static grounding systems are just one part of the broad range of static grounding and bonding equipment available from Newson Gale Inc., the Jackson, NJ based specialists in static control for hazardous areas.

For additional information, contact: Newson Gale Inc., 460 Faraday Ave., Unit B, Suite 1, Jackson, NJ 08527 . Phone: 732-987-7715. E-Mail: groundit@newson-gale.com. Website: www.newson-gale.com.

More from Architectural & Civil Engineering Products