Static Grounding and Bonding Assembly has portable design.
Press Release Summary: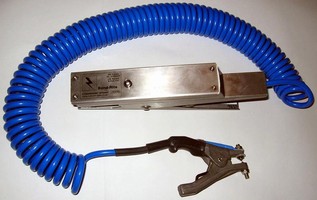 Bond-Rite EZ makes it possible to establish and verify proper low-resistance (under 10 W) connections in order to safely dissipate static electricity in hazardous locations. Suited for mobile or portable equipment, self-contained device provides and continuously verifies low-resistance bonding connection while displaying healthy condition via flashing green LED on handle of monitoring clamp. It is powered by Lithium Manganese battery, which provides up to 600 hr of continuous use.
---
Original Press Release:

Static Grounding and Bonding Assembly is Completely Portable



A completely portable, self-testing grounding and bonding assembly, the Bond-Rite EZ from Newson Gale Inc. makes it possible to establish and verify a proper low-resistance connection to safely dissipate static electricity in hazardous locations.

The new assemblies meet the need for safe, convenient grounding where more permanent solutions are not feasible, especially in mobile or portable equipment whose operation requires static electric discharge protection.

Among these are applications in the transportation of flammable liquids, powders or gasses or for emergency response vehicles, as well as many other instances where it is necessary to establish a low-resistance bond or connection to a local ground point for mobile vehicles or portable equipment. In these cases it is time consuming and often impractical to install a permanent ground connection or to set up and test a conventional temporary bond. In these situations, the Bond-Rite EZ offers a self-contained, easy to use device, which provides and continuously verifies a low-resistance bonding connection while displaying a healthy condition through a flashing green LED indicator on the handle of the monitoring clamp (less than 10 Ohms resistance).

A safe connection is ensured by the strong clamping mechanism combined with sharp tungsten carbide "tooth contact points" that are able to penetrate even the heaviest build-up of paint, coatings, corrosion, or other insulating deposits.

Bond-Rite EZ units are approved as Intrinsically Safe Devices by Factory Mutual and CSA for Class I, II & III, Div 1 & 2, hazardous locations (all gas groups). The unit also has European ATEX approval, and is powered by a replaceable Lithium Manganese battery, which provides up to 600 hours use when continuously connected, with a shelf life of up to 10 years. They are available in a range of options, with 10, 16 or 32ft retractable Cen-Stat® cables, or portable cable reels with up to 100 ft capacity.

The Bond-Rite EZ is just part of the Cenelectrex® range of static grounding and bonding equipment available from Newson Gale, Inc., the Lakewood, NJ based specialists in hazardous area static control.

For additional information, contact: Newson Gale Inc., 1072 Madison Ave., Lakewood, NJ 08701. Phone: 732-987-7715. E-Mail: info@newson-gale.com. Website: www.newson-gale.com

More from Sensors, Monitors & Transducers