Starline Offers Plug-In Raceway for Fitness System That Eliminates the Need for Thousands of Feet of Wiring
Press Release Summary: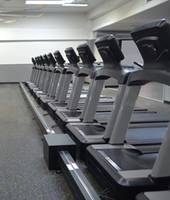 The Plug-In Raceway for Fitness System features two double channel raceways mounted back to back on a T floor bracket. The system is powered by 60 A 3-phase feeds and comes with circuit breakers that provide local protection at the point-of-use.
---
Original Press Release:
Starline Introduces Preassembled Power & Networking Solution for Fitness Applications
Starline Plug-In Raceway for Fitness (PIRFIT) offers optimized method for powering fitness equipment
CANONSBURG, PA. (PRWEB) OCTOBER 10, 2018 - Starline, the customizable, flexible power distribution and metering provider for retail, mission critical and industrial markets, introduces the Starline Plug-In Raceway for Fitness (PIRFIT) system. This variation of the Plug-In Raceway product is an integrated power and data cabling solution that was developed as an alternative to traditional wiring and other, less flexible raceway systems.
"When developing the system we had multiple goals in mind: easy to install, simple to relocate, and require less maintenance than other methods while also providing maximum power," states Senior Product Manager Jeremy Schmidt. "Today, PIRFIT is available to those fitness clubs looking for a two-in-one power and networking solution that can eliminate thousands of feet of wiring and reduce dozens of labor hours."
The PIRFIT system consists of two double channel raceways mounted back to back on a T floor bracket. It's powered by 60 amp 3-phase feeds, which transfer power through the conductors to the plug-in modules containing receptacles. Plug-in modules also contain a circuit breaker—providing local protection at the point of use—and can be rearranged to anywhere along the backplane, putting access to power exactly where it is needed. Compared to other solutions, the PIRFIT system reduces the majority of home runs typically required for power, coax and network cabling to console-type fitness equipment. In addition, facility managers won't have to worry about calling an electrician if they want to make a change in the future.
The PIRFIT system is shipped in preassembled sections for quick installation and is available in a variety of standard and customizable colors. For further information on this revolutionary power and networking solution for fitness equipment, please visit the Universal Electric Corporation YouTube channel and watch the video Starline Plug-In Raceway for Fitness Power.
About Universal Electric
Universal Electric Corporation (UEC), a pioneer in electrical power distribution since 1924, is a world leader in the development of customizable power distribution systems. Industry innovators for more than 85 years, the company's premium, flexible products are designed to fit the electrical power needs of any business in any industry. One of the only companies dedicated exclusively to flexible power distribution products, Universal Electric's award-winning Starline and U-S Safety Trolley products have revolutionized electrical power distribution in data centers, industrial manufacturing facilities, retail chains and grocery stores worldwide. For more information, visit: http://www.uecorp.com.
Contact Information
Rachel Wilkin
Universal Electric Corporation
+1 (724) 597-7800
More from Electronic Components & Devices