Star SU to Feature G250 Vertical Gear Grinder at IMTS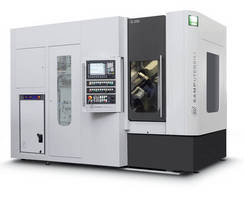 HOFFMAN ESTATES, IL. — Star SU LLC will feature the Samputensili G 250 gear grinding machine at IMTS 2014 in September.



In the automotive industry the manufacturing of high-precision gears and transmission components is an element of crucial importance. In recent years an increasing demand for the performance requirements of automotive drivetrains has put a considerable pressure on gear manufacturers. The automotive industry is constantly searching for new production solutions that ensure the greatest efficiency, low-maintenance, reliability and the fastest possible production times in gear manufacturing. In addition, the continuously evolving market situation highlights the need for extremely flexible solutions to be able to deal with the ever changing consumer requests.



It was with these challenging requirements in mind that Samputensili developed the G 250 gear grinding machine. Presented at EMO Hannover 2011, the machine has rapidly become a big hit in the automotive market.



The G 250 is a generating and profile grinding machine, designed for cylindrical gears with a maximum outside diameter of 250 mm and shafts with lengths up to 550 mm. The machine is based on the dual work spindle concept, which eliminates non-productive times almost completely. By means of this feature, the loading / unloading process of a workpiece is carried out in masked time, while simultaneously the manufacturing process proceeds on another workpiece. Unlike other applications, the gear meshing is conveniently carried out directly in the grinding position for better accuracy purposes and minimum change-over time. Indeed, only in this position the meshing can be achieved with a micron-level accuracy. Therefore the G 250 represents the ideal solution for those customers who need very low cycle times and efficient mass production of gears.



In the G 250 the minimum axis distance between worktable and grinding wheel is only 40 mm, and its grinding spindle can achieve 12.000 rpm. Due to the combination of these two unique features, the grinding process is also possible using profile / threaded grinding wheels with very small outside diameter, mounted on the main spindle. Workpieces with tool diameter limitations, for example shoulder-type gears, can be ground without any additional devices. Similarly, double and triple pinions with very small distances can be ground with the proper tooth-to-tooth alignment. An add-on optional spindle multiplier up to 24.000 rpm, with quick connection system to the main spindle, allows the use of electroplated CBN profile grinding wheels with outside diameter down to 25 mm.



The grinding spindle with its specifically large tool capacity allows the use of long grinding worms to raise the tool life of single or combination worms of roughing and finishing tools employing electroplated CBN or ceramic bound grinding worms and wheels. Therefore customers can always rely on the most efficient technology or the most beneficial combination to complete their grinding task.



Due to the extremely high rotational and linear accelerations with their appropriate absolute speeds, the machine guarantees excellent cycle times and is perfectly suited to benefit from future developments in the grinding tool sector.



Universal quick change clamping systems for mass production environments allow rapid tool change, so that valuable grinding time is never compromised.



The profile dressing unit consists of a standard profile diamond dressing roll mounted on a dedicated spindle, which is located on the rotating table structure. An optional diamond OD dressing tool can be mounted on the dressing unit structure, in order to have the necessary flexibility to dress the OD of the grinding wheel.



If the tooth root diameter must be ground as well, a tip radius dressing roll is applied to create the required tip radius on the grinding tool. When required, the dressing unit is automatically brought into the working position by the rotating movement of the worktable. This guarantees an extremely precise and rigid positioning, which is of fundamental importance in order to obtain an excellent result. The dressing movements are actuated by the interpolation of the axes.



The possibility to use generic profile dressing rolls on the machine allows customers to save money and guarantees a fast supply of dressing tools. Customers may employ both single and double flank dressing rolls, as well as multi-rib type.



A hydraulically actuated swivel arm brings the inspection probe into position and retracts it from the work area during the grinding process; profile, lead and pitch inspection is performed. Results may be directly printed or stored on a memory device.



The Samputensili menu-guided operator interface with simulation capability, simple machine design concepts in terms of tooling and dressing technology, fast automation and amazing user friendliness are the strengths behind this unique machine.



Star SU (Booth N-6924) will exhibit this machine during IMTS in Chicago, Illinois, September 8-13, 2014. Learn more about the G 250, request a quote and plan to see it at IMTS by visiting www.star-su.com.



About Star SU, LLC



Star SU, LLC offers a wide variety of machine tools, precision cutting tools and services including:

• vertical and horizontal gear hobbing machines

• chamfering and deburring machines

• gear grinding machines

• gear shaping and shaving machines

• tool grinding machines

• gear hobs and milling cutters

• indexable gear milling solutions

• gear shaper cutters and shaving tools

• chamfer and deburring tools

• gundrills

• form tools and reamers

• carbide blanks and preforms

• tool coatings

• and tool life cycle management services



Star SU is the go-to-market cooperative partnership of Star Cutter Company of Farmington Hills, MI, SU America, Inc., the US sales and manufacturing unit to SAMP, S.p.A., and Bourn Koch Inc. of Rockford, IL. The companies together represent one of the world's largest gear machine, tool and gear tool manufacturing producers.



More from Machinery & Machining Tools