STANLEY® FATMAX® Fiberglass Round Point Shovel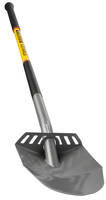 Trade shovel with advanced technologies
ANTIOCH, Calif. - The STANLEY® FATMAX® brand is synonymous with high quality and durability. FATMAX has proven to exceed the expectations of professional tradesmen across the globe, with countless innovations and patented technologies.
We are pleased to offer you an exclusive introduction to the Fiberglass Round Point Shovel within the 2017 lineup. Whether it is building schools, houses, hospitals, or landscaping work, skilled construction workers need reliable tools. This shovel will perform under frequent use and abuse and will serve multiple purposes on each job site.
The Fiberglass Round Point Shovel features patented technologies that allow professionals to work more efficiently than ever before. The ControlGripTM technology offers comfort in any position imaginable, accompanied by AntiVibeTM to reduce vibration and shock. The Xtreme Step is merely icing on the cake.
While its exterior is designed to reduce injury and promote comfort, the interior is reinforced by steel down to the core - crafting a heavy-duty professional grade shovel. The Fiberglass Round Point Shovel takes the work outdoors to a whole new level, guaranteed for a lifetime.
Availability: January 2017
Warranty: Lifetime
MSRP: $29.99
About Bond Manufacturing
Since 1946 Bond Manufacturing has continued to lead the industry with consumer-driven hand and gardening tools. With a history of vast technology in all categories, Bond Manufacturing has designed innovative tools with its in-house facilities. Bond Manufacturing continues to provide breakthrough products while transforming the user experience. For more information on Bond's products, visit www.Bondmfg.com.
About STANLEY®
STANLEY, a brand of STANLEY BLACK & DECKER, Inc. is a diversified worldwide supplier of tools and engineered solutions for professional, industrial, woodworking, construction and do-it-yourself use. For over 170 years, the trusted STANLEY brand has been synonymous with quality, value and reliability. Its well-known hand tool and storage brands include STANLEY FATMAX® and FATMAX Xtreme®. Headquartered in New Britain, Conn., STANLEY BLACK & DECKER, Inc. operates multiple manufacturing facilities and sales offices throughout the globe. For more information, visit www.Stanleytools.com.
Larena Hernandez
Social Media & PR Coordinator
Bond Manufacturing Co.
Direct: 925.756.3913
Fax: 925.777.9018
More from Cleaning Products & Equipment