Standard and Custom Optics Available at Surprisingly Affordable Prices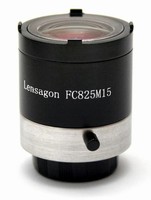 CAMBRIDGE, Mass - THE VALUE ENGINEERING ALLIANCE announces a strategic alliance with LENSATION (Karlsruhe, Germany), which will widen the availability of the lenses and optical component design services enjoyed by LENSATION customers.

Companies and individuals with requirements for standard lenses will benefit by being able to obtain, at appreciably lower prices, lenses and other optical components comparable to those they are currently using. These include various kinds of board lenses, general purpose C-Mount lenses, and telecentric lenses, available in both regular and industrial versions. OEMs stand to gain the most from this new alliance by being able to 1) get cost-optimized series productions of their existing designs, 2) obtain new designs free of charge by placing volume orders, and 3) secure cost-effective prototypes. This alliance's lens design and manufacturing specialists are capable of making lenses as small as 1 mm and as large as 300 mm in diameter, and can do production runs of as few as five pieces. THE VALUE ENGINEERING ALLIANCE/LENSATION collaboration invites inquiries from all interested parties, but especially those whose ideas or projects were rejected by other optics design houses.

The Lensagon FC825M15 exemplifies the alliance's product development process. This 185 degree lens was specifically designed for use with cameras that feature 15.2 mm x 15.2 mm imaging area sensors such as Kodak's KAI-402X series CCDs.

The delivery of the highest quality goods is assured due to the QC programs in place and the fact the companies that produce LENSATION lenses have extensive experience using and selling lens test equipment. The use of customer-specified test protocols is available.

For more information, visit www.The-V-E-A.com, email MarcelVEA@aol.com or call (617) 492-1252.

About The Value Engineering Alliance
Established in July of 1987, THE VALUE ENGINEERING ALLIANCE specializes in the conceptualization, development, marketing, selling, and implementation of machine vision solutions that lower the overall costs of laboratory and industrial manufacturing operations (analysis, assembly, inspection, test, control, identification, etc.) while achieving equivalent or enhanced levels of system/process performance and reliability.

Renowned as the supplier of application-specific vision software libraries used by several of the vision industry's premier players to enhance their existing offerings or expand into new application arenas, The VEA has been equally successful as a supplier of vision software and systems used in numerous industries by OEMs, system developers/integrators and automation engineers inside end user organizations. Based in Cambridge, Massachusetts (USA), the VEA operates worldwide via its extensive network of allied organizations and individuals. For additional information about the VEA's activities and areas of expertise, visit www.The-V-E-A.com.

More from Materials