Stand-Up Counterbalanced Lift Trucks offer optimal maneuverability.
Press Release Summary: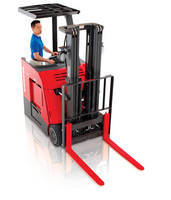 Model 4250 trucks feature ComfortStance suspension, optional on Model 4150, that adapts automatically to user's weight and, combined with cushioned floor mat, provides impact and vibration isolation. Handling loads from 3,000-5,000 lb, 3-wheel trucks have operator compartment with contour-padded cover, 3-tiered scalloped armrest, and multifunction control handle. Dual-steer-wheel design shortens turn radius, while angled front cover and clear line-of-sight from compartment optimize visibility.
---
Original Press Release:

New Raymond Lift Trucks Engineered for Maximum Productivity, Comfort



Comfortstance(TM) Suspension Provides Ergonomic Benefits for Operators

GREENE, N.Y. - When working in tough dock environments and traveling over uneven floors, operators of stand-up counterbalanced lift trucks rely on comfort, a clear line of sight and maneuverability from their trucks to achieve maximum performance and efficiency throughout their shifts. With these operators in mind, The Raymond Corporation designed the new Models 4150 and 4250 stand-up counterbalanced lift trucks with greater visibility for the operator; increased maneuverability provided by agile steering, a shorter head length, and dual steer tires; and the innovative ComfortStance(TM) suspension to maximize operator comfort.

"Available in load capacities from 3,000 pounds to 5,000 pounds, the Models 4150 and 4250 lift trucks were designed with feedback from some of the best performers in the warehousing industry," says Craig Curtis, product manager of counterbalanced trucks for The Raymond Corporation. "The result is a smooth ride from dock to stock, clear sight lines, a comfortable compartment, responsive controls, energy efficiency, low maintenance, and a low cost of ownership."

To provide a smoother ride, the unique ComfortStance suspension and cushioned floor mat isolate operators from impact and vibration. The suspension, standard on Model 4250 and optional on Model 4150, adapts automatically to each operator's weight and features only nine parts for simple maintenance. Operator comfort is further enhanced by a low step height into the ergonomically designed operator compartment, which includes a durable cover with contoured padding, a three-tiered scalloped armrest, a multifunction control handle and an optional extended operator backrest.

The 3-wheel trucks are designed to perform right-angle stacking maneuvers in less total area. The dual-steer-wheel design allows one wheel to counter-rotate during turns, resulting in a shorter turn radius and reducing tire loading and steering friction. The 3,000- and 3,500-pound capacity models offer a short battery compartment to reduce head length and optimize maneuverability in crowded docks and smaller places.

The trucks' sleek design lends itself to excellent visibility, improving operation and efficiency in applications, such as loading and unloading trailers, transporting materials, and cold storage. The angled front cover allows operators to see the forks engage loads on the floor for more accurate handling and stacking. A clear line of sight from the spacious compartment affords operators visibility from every angle for efficient handling with fewer errors.

Powered by Raymond's ACR System(TM), Models 4150 and Model 4250 both run smoother and faster to move more pallets while still maintaining high, energy-efficient Eco-Performance throughout the battery cycle. Quick acceleration and increased travel and lift speeds afforded by the ACR System help operators get more done in less time, whether the trucks are loaded or unloaded. Raymond's ACR System also means fewer batteries and chargers need to be on-hand, freeing up warehouse space.

For more information on the Raymond® Model 4150 or Model 4250 stand-up counterbalanced lift trucks or to locate a Raymond Sales and Service Center, visit www.raymondcorp.com or call (800) 235-7200.

The Raymond Corporation is a global provider of material handling solutions that improve space utilization and productivity, with lower cost of operation and greater operator acceptance. Raymond offers the iWarehouse® system, an enterprise fleet optimization solution for warehouse and distribution center managers to collect and analyze real-time lift truck data to maximize fleet productivity and reduce costs. High-performance, reliable, ergonomically designed Raymond lift trucks range from a full line of manual and electric pallet trucks and walkie stackers to counterbalanced trucks, Reach-Fork® trucks, orderpickers and dual-purpose (pallet handling/case picking) Swing-Reach® trucks.

For additional information about The Raymond Corporation or to locate a Raymond Sales and Service Center, visit the company website at www.raymondcorp.com or call (800) 235-7200. Above. And beyond.®, ACR System(TM), ComfortStance(TM), iWarehouse®, Raymond®, Reach-Fork®, and Swing-Reach® are U.S. trademarks of The Raymond Corporation.

©2010 The Raymond Corporation. All rights reserved.


More from Software