Stand-Alone Probe supports voice, data, and video testing.
Press Release Summary: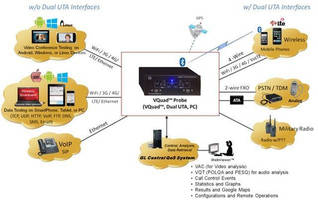 Self-contained VQuad™ Probe supports multiple physical interfaces for connecting to wired or wireless network while automatically performing voice, data, and video testing. Accessibility allows remote configuration and unattended onsite operation for automated testing while sending events/results to central database. Dual UTA within probe supports up to 2 independent tests or single bi-directional test; up to 3 more Dual UTAs can connect via USB for max capacity of 8 independent devices.
---
Original Press Release:

GL Enhances All-in-One, Stand-Alone Probe for Voice, Data, and Video Testing



Gaithersburg, Maryland, USA – GL Communications Inc., announced today enhanced stand-alone and automated Voice, Data and Video Testing probe referred to as VQuad™ Probe.



Speaking to the press, Mr. Robert Bichefsky, a Senior Manager for product development of the company said, "GL's VQuad™ Probe is an all-in-one self-contained probe supporting multiple physical interfaces for connecting to practically any wired or wireless network while automatically performing voice, data and video testing. This comprehensive hardware device incorporates all the features of the current VQuad™ with Dual UTA unit such as portability and remote accessibility while adding the stand-alone functionality.  The Probe is designed to be configured remotely and left unattended onsite for automated testing while sending events/results to the central database."



He added, "The VQuad™ Probe is relatively small, 8.3" x 7.4" x 3" high (210mm x 188mm x 76mm), so it is unobtrusive when left onsite or running in a lab.  There is a Dual UTA within the VQuad™ Probe which supports up to two independent tests or a single bi-directional test. Up to three additional Dual UTAs can be connected to the VQuad™ Probe, via USB, for a maximum capacity of 8 independent devices.



The VQuad™ Probe is configured for remote control access via Ethernet, thus mouse/keyboard is not required. Additional accessibility is available using the optional portable Touchscreen Monitor. When connected to the VQuad™ Probe via USB the user has mouse, keyboard and screen access to the VQuad™ Probe."



Mr. Bichefsky explained, "The VQuad™ Probe can be used for intrusive Voice Quality Testing, using the POLQA (ITU-P.863) or PESQ (ITU-P.862) algorithms. Using any of the supported interfaces, after a connection is established, the VQuad™ Probe can send audio in one direction while recording audio in the opposite direction. The recorded audio files are transferred to the GL VQT software for analysis against POLQA or PESQ. All results, including MOS, Signal/Noise Level Gain and Jitter, are transferred to the central database.  The GL's VQT solution is fully automated and can be remotely controlled via CLI. A single instance of VQT, located at a central system, can support all VQuad™ Probes within the network (no need to purchase multiple instances of VQT).



VQuad™ NetTest, for testing/analyzing data communication within any network, supports testing directly from the VQuad™ Probe as well as testing from any Mobile Device (requires free downloadable app for Android and IOS). Both the PC and Mobile Device testing supports the following: TCP, UDP (capacity), VoIP, HTTP, FTP, and DNS. Mobile devices also include SMS, Email, RSSI, Battery Level, and Cell Site informational tests.  Tests can be run directly from the Mobile device or from a VQuad™ script for automated operation.  All results are sent to the central database.



Video Conference Testing, using the GL Video Application Controller (VAC), was recently added to the VQuad™ solution. Video tests can be run manually or automated, using the VQuad™ scripts, between any PC and/or Android device. For instance, perform Video tests between two PCs, between two Android devices, or between a PC and an Android device. User configurable test plans include access to Video Image Size, Frame Rate, Codec and more. User-access also includes Audio options such as Audio Codec. The Video Test results are sent to the central database and include Video MOS, Audio MOS, along with several video/audio analytic metrics."



VQuad™ Probe Advantages



Bullet proof, 24 x 7 operation, Auto reboot and recovery, Watchdog capability, No worries

Unattended, Remote management, Full automation

Deploy into small or large networks, Control and Access via the Central System

Voice Quality (POLQA and PESQ), Data Quality, Video Quality

2-wire analog FXO, 4-wire analog (Tx/Rx), Bluetooth for mobile phone connections, VoIP SIP User Agent

Simple Configuration using VQuad™ Scripts; set it and forget it for unattended operation

Important Features

A single stand-alone solution for up to 8 independent interfaces

Each port may be controlled independently for traffic and call control

Automatic send/receive voice files over established calls

Voice and delay measurements

Remote Access for starting/stopping tests along with retrieving results

Results available in real-time or post-processing

VoIP SIP testing with support for voice quality and path confirmation includes authentication and proxy configuration

Support for T1 E1 CAS/PRI voice quality testing with optional T1 E1 USB unit



About GL Communications Inc.,

Founded in 1986, GL Communications Inc. is a leading supplier of test, monitoring, and analysis equipment for TDM, Wireless, IP, and VoIP networks. Unlike conventional test equipment, GL's test platforms provide visualization, capture, storage, and convenient features like portability, remote operation, and scripting.



Our test solutions cover wide array of networks – 4G (LTE), 3G, 2G, IP, Ethernet, T1, T3, E1, E3, OC-3/STM-1, OC-12/STM-4, and analog.  GL's tools are widely used by the telecommunication industry for: conformance testing, automated stress/load testing, and performance assessment, and analysis.  For more information about GL's complete line of products,



Contact:

Shelley Sharma

Phone: 301-670-4784

E-mail: info@gl.com

More from Electronic Components & Devices