Stand-Alone Coater/Laminator suits R&D purposes.
Press Release Summary: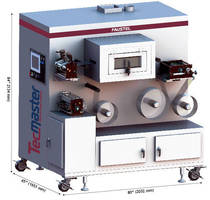 In lab and pilot-scale manufacturing, TecMaster is used to predict coating and substrate characteristics in various coating/laminating operations before scaling up to production-level equipment. Components include 2 coating heads (knife-over-roll and mini gravure), 2 unwinds, convection dryer, dry-bond laminator, and rewind with integrated drives and controls. Able to run web widths up to 175 mm at operating speeds of 0.1–1 mpm, plug-n-play unit is built on mobile cart with integral storage.
---
Original Press Release:
Faustel Unveils New TecMaster R&D Coater/Laminator
Germantown, Wisconsin — Faustel announces the TecMaster R&D Coater/Laminator designed to meet small scale, early-stage product, and process development. The TecMaster is a stand-alone coating/laminating line for laboratory and pilot-scale manufacturing used to predict coating and substrate characteristics in various coating/laminating operations before scaling up to production-level equipment. The self-contained line with two coating heads, two unwinds, convection dryer, laminator, and rewind with integrated drives and controls runs web widths up to 175 mm at operating speeds of 0.1-1 mpm.

The TecMaster has both a knife-over-roll and mini gravure coating head make it easy to perform coating tests on a variety of substrates. The versatile lab line also includes a dry-bond laminator. Based on data gathered, customers can make adjustments to chemistries, processes, and methods before moving up to larger-scale pilot and production lines. "Making R&D an affordable option is just one way Faustel is helping companies develop innovative processes while at the same time cutting costs," said Jay Totten, Technology Center Manager at Faustel.

The plug-n-play lab coater is built onto a mobile cart with casters and leveling pads and includes integral storage cabinets for lab supplies. Everything is self contained — Designed for quick setup and easy cleaning. The TecMaster's small footprint allows it to roll through laboratory doors for effortless installation, transportation, and relocation. "We engineered the TecMaster with minimal setup so it could arrive onsite and be put to work quickly," said Dan Young, Mechanical Engineering Manager.

Pre-engineering allows Faustel to offer the TecMaster at an economical price with a shortened delivery cycle. "Based on feedback from customers and data from the Faustel Technology Center we were able to design an R&D coater/laminator that allows customers to deploy innovative coating solutions on a variety of substrates without consuming valuable time on production equipment," said Chris Clark, Vice President of Sales and Marketing. A TecMaster spec sheet is available online at www.faustel.com/tecmaster. For sales inquiries contact Chris Clark at sales@faustel.com or (262) 253-3333.

About Faustel
Founded in 1956, Faustel (http://www.faustel.com) is a manufacturer of high-tech web converting equipment for the paper, film and foil converting industry including modular systems, complete lines, and components for a wide range of coated or laminated products. Faustel has a well-equipped Technology Center including two pilot coating lines, both capable of aqueous and solvent-based coating using a wide variety of methods and incorporates all well-known drying and curing technologies as well as a wide variety of coating, laminating, and winding capabilities. Faustel has production facilities in the US and China and provides 24-hour parts and service support.

Media Links
• Link to high resolution photo of TecMaster w/dimensions
http://www.faustel.com/wp-content/uploads/2015/10/TecMaster2_wDimensions-hires.jpg
• Additional TecMaster media links can be found at
http://www.faustel.com/tecmaster-lab-coater

PR Contact
Penny Ross, Marketing
Faustel
(262) 253-3333
pmy@faustel.com
More from Agricultural & Farming Products