Stainless Steel Wire Rope and Turnbuckles Canadian Retailers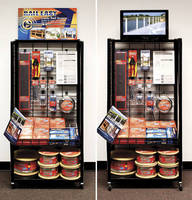 Stainless Steel Direct is pleased to announce that effective March 1st 2013 they will be offering a stocking dealer POP display of the Vanguard Cable Kit stainless steel railing system. Our Stocking Dealer network services contractors and retail customers by stocking product for our RailEasy(TM) Cable Railing System.

In today's difficult market it pays to have unique products that provide direct revenue, attract traffic and present cross-selling possibilities. We have developed our program to accomplish all three of these objectives. The RailEasy(TM) dealership simply makes good business sense.

The Vanguard Cable Railing Kit is currently sold in Canada through Home Improvement companies such as Home Hardware, Castle, Tim-Br Mart and Rona. Interested dealer stores are asked to call Stainless Steel Direct at 1-800-981-3590 to inquire about the POP display and customers are encouraged to visit their local Canadian building material store for details on how to purchase the Vanguard Cable Railing Kit.


More from Material Processing