Stainless Steel Tools Reduce Contamination Risk in Critical Process Areas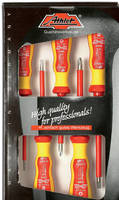 Environmental integrity for sensitive R&D or production operations depends on basic shop tools as well as advanced technology.

A common source of process contamination lies in a mechanic's supply box or a maintenance technician's toolbelt. Using ordinary carbon steel tools on stainless steel fasteners and production equipment introduces the risk of rust or chrome particles.

To help facility managers ensure sterility in critical industries, a Michigan-based electronics and optical inspection supplier has added high-performance stainless steel hand tools - including Athlet AntiCor specialty products from Germany.

"A general industrial screwdriver or wrench is likely to undermine elaborate steps to maintain aseptic conditions on stainless steel machinery," says Mike Shahpurwala, president of Aven, Inc. in Ann Arbor, Mich. "Sophisticated precautions to assure quality control and regulatory compliance can be compromised by routine cleaning or maintenance with standard shop floor tools."

Using materials-compatible tools is an essential element of current good manufacturing practice (cGMP) in critical areas. That makes stainless steel maintenance gear the accepted standard for industries such as health care, pharmaceutical production, life sciences research, food and beverage processing, semiconductors, chemicals, aerospace, avionics and nuclear energy.

Multiple Benefits

Aven's product line extension features professional-grade stainless steel wrenches, pliers, cutters, awls, screwdrivers, bits, nut setters and hexagonal keys.

Durability, hardness and corrosion resistance are the main advantages of these devices for sensitive production areas. They also reduce replacement costs over their working lifespan, which extends significantly longer than for frequently sterilized carbon counterparts.

Stainless hand tools have been the standard for decades in hospitals, laboratories, dental practices and other medical settings. They are equally essential for industries that are regulated or that monitor interior environments rigorously.

Here's why: When ferrous tools contact non-ferrous (stainless steel) work surfaces or equipment, free iron migrates naturally to the surface of carbon steel. Even the hardest chrome-plated tools, whether autoclaved or not, leave tiny iron particles on stainless surfaces as equipment is installed, fasteners are turned, edges are smoothed or parts are repaired. Even in low-humidity clean rooms. exposed steel dust reacts with oxygen to form iron oxide or pitting corrosion on the equipment that tools touched.

Some production engineers and maintenance technicians proceed with a false sense of protection because they autoclave general industrial tools between uses in a sterile setting. While this is effective initially, each successive sterilization cycle degrades the electroplating.

Replacement Costs Add Up

After as few as two dozen autoclave cycles, chrome may chip, flake and peel -- a second source of airborne particulates that compromise any process requiring a sterile site. Tiny chrome particles from carbon tools compr0omise sterile processes, either directly from the device or from a technician's hands, hairnet or lab coat. This contamination potential is particularly troublesome for food processing, hospitals, biotech labs, scientific research, microchip production or other high-tech fabrication.

"While carbon steel or chrome-vanadium steel models have lower purchase costs," notes Shahpurwala, "they become unusable in critical areas within about month of daily sterilizing and must be replaced."

A key advantage of stainless steel for critical operations is that it's a homogeneous material - without plating that can separate from the steel.

Stainless steel is a low-carbon alloy with at least 10 percent chromium to resist corrosion. Contact with oxygen forms a passive (non-reactive) chromium-oxide surface film lacking iron content - unlike chrome plating's ferrous surface.

As an added benefit, the invisible chromium-oxide layer is self-repairing. If a tool is scratched, nicked or chemically damaged, chromium in the steel reacts again with oxygen - even in small amounts - to renew the rust protection. This lets stainless instruments tolerate frequent sterilization through thousands of autoclave cycles without deterioration.

Surgical-Quality Steel

Tools designed for the rigors of daily maintenance generally are fabricated from 400 series stainless steel, also used in surgical tools because of resistance to stress cracks and other wear.

The Athlet AntiCor line of industrial-strength tools added by Aven are made from a Type 420 martensic alloy that delivers exceptional performance in critical applications. Multi-level hardening provides outstanding tensile strength and torque capability.

"Stainless tools typically bring a full ROI within 10 months," says Shahpurwala, "by eliminating replacement costs for carbon steel hand tools that fail prematurely. Over years of production use, workpiece savings accumulate dramatically - particularly for multi-location companies."

A broad selection of stainless tools in a range of sizes are described on 12 pages of Aven's 2009 catalog, available electronically at www.aveninc.com.

Aven, Inc. is an international source of high-performance precision tools and optical inspection systems for industrial, scientific, research and education applications. More than 750 products include alignment tools, video inspection systems, magnifiers, precision knives, "smart tweezers," pliers and cutters, illumination equipment and other workbench solutions. An electronics innovator since 1983, Aven is located in a high-tech corridor of Southeast Michigan and is the parent company of SharpVue, which designs and manufactures integrated digital microscope technology.

Visit Aven at Booth 5033 of Quality Expo in Rosemont (Chicago), Ill., from Sept. 22-24, 2009.

For more information, call Aven at (734) 973-0099 or see www.aveninc.com for a digital catalog and video demonstrations.

Related