Stainless Steel Scrapers come with non-beveled edge.
Press Release Summary: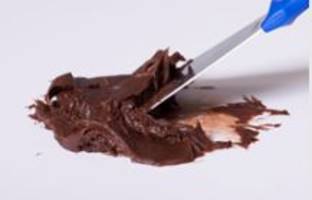 Stainless Steel Scrapers are available in handheld and handle-mounted versions with up to 9 colors. Units are suitable for dough, confectionery gels, pastes, soft chocolate, cheese, burnt-on meat and dried powder applications. Products are offered in two sizes and are FDA-compliant. Scrapers feature rounded blade corners and are used to clean tables, counters, equipment and utensils.
---
Original Press Release:
Remco Products and Vikan Introduce New Stainless Steel Scrapers
Hygienic stainless steel scrapers handle tough messes for food processing industry
In response to customer needs for a better solution for sticky, dried and burnt-on soils, Remco Products and Vikan have launched a new selection of FDA-compliant, color-coded Stainless Steel Scrapers. Remco's hand-held scrapers feature a beveled blade edge that is particularly effective in scraping away food materials. Vikan's new stainless steel scrapers can be mounted to a handle, greatly extending the user's reach.
Both handheld and handle-mounted versions (compatible with Euro-threaded handles) are available in two popular sizes and up to 9 colors.
Remco and Vikan developed their respective Stainless Steel Scrapers to deal with some of the toughest applications in the food and beverages industry, including:
Dough, confectionery gels, and pastes
Soft chocolate and cheese
Dried powders and other bakery debris
Hardened chocolate
Burnt-on meat and other soils
Stainless steel blades, a high-strength attachment point, and – in the handheld models – an ergonomic finger rest enable forceful soil removal without the excessive use of hot water or detergents.
Gentle on surfaces
While tough on soils, Vikan's scrapers feature rounded blade corners and a non-beveled edge ensuring that these scrapers go easy on surfaces, so that cleaning staff can protect tables, counters, equipment and utensils while keeping them cleaner.
The Remco and Vikan scraper family
In addition to Remco's and Vikan's new offerings, both manufacturers build several additional scrapers to fit customer needs. Constructed with FDA-compliant materials (polypropylene, nylon and stainless steel), there are are scrapers available in multiple colors and suited for various tasks.
"The soils these tools are designed to remove are amongst the most stubborn you'll encounter in food and beverage facilities," said Vikan Global Hygiene Specialist Debra Smith. "The new scrapers enable staff to remove these soils more effectively and easily – which means more hygienic environments and, ultimately, less risk of food safety issues."
About Remco Products
Remco provides color-coded tools for cleaning and material handling where hygiene and safety are critical. The introduction of a food-safe poly shovel more than 30 years ago established Remco as an industry pioneer of hygienic design. In addition to its hygienic shovels, scoops, and scrapers, Remco features Vikan's advanced line of brushes, brooms, and squeegees. Together with Vikan, Remco supports color-coding plans by offering more tools in more colors than any other supplier. Remco also provides training and support to end users, helping ensure regulatory compliance. Regardless of an operation's size or complexity, Remco has the tools and expertise to help execute HACCP color-coding plans.
More from Software