Stainless Steel Polishers achieve one-step #8 mirror finish.
Press Release Summary: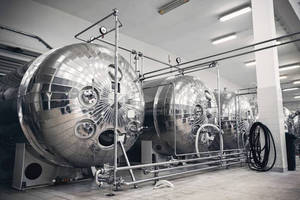 Instant Polish Line includes stainless steel polishing products available in 3 formats: pre-applied on Quick Step Instant Polish Disc and Instant Polish Belt or stand-alone paste. Designed for industries where high quality mirrored finishes are required, including pharmaceutical, food and beverage, and construction and design, these products eliminate 3–4 steps in polishing process, including need to clean in-between polishing steps, and reduce consumable changeover frequency.
---
Original Press Release:

Walter Surface Technologies Launches Instant Polish Line, a One- Step Solution to Achiveing a #8 Mirror Finish



Meeting the growing demand from industries where high quality mirrored surfaces are essential.

Instant Polish Line Video



Montreal QC / Windsor, CT – Walter Surface Technologies, the global industry leader in surface treatment technologies, announces new innovations to its portfolio of stainless steel polishing products. The Instant Polish Line will be available in three distinct formats: pre-applied on the Quick Step Instant Polish Disc and the Instant Polish Belt, and will also be available in a stand-alone paste.



Proprietary to Walter Surface Technologies, the Instant Polish Line is the most innovative one-step solution to achieving a perfect #8 mirror finish. Jonathan Douville, Product Manager at Walter Surface Technologies explains that stainless steel finishing and polishing is often unforgiving, and is one of the most time-consuming and difficult applications in the fabrication process.



These new instant polish products combine the strength of Walter's white and blue polishing pastes into an easy, one-step solution. Users can save a great amount of time, as the products eliminate three to four steps in the polishing process, including the need to clean in between polishing steps, and reduces the frequency of consumable changeover.



The new polishing line was designed for industries where high quality mirrored finishes are required including, pharmaceutical, food and beverage as well as construction and design.  "There was a need in these market segments for an improved process" explains Douville. "Walter was able to incorporate decades of knowledge and expertise into developing a line of polishing products that reduces labor time, operational cost, and ultimately increased profits while delivering exceptional results".



The Instant Polish Line will be available as of January 2016.



ABOUT WALTER SURFACE TECHNOLOGIES

Walter Surface Technologies provides innovative solutions for the global metal working industry. From high performance abrasives, power tools and tooling to industrial parts washing systems, cleaners, degreasers and lubricants Walter focuses on helping its customers work better. Founded in 1952, the company is established in 7 countries throughout North America, South America and Europe. International headquarters is in Montreal and US headquarters is located in Windsor, Connecticut. Key certification and awards include ISO 9001: 2008, Wall Street Journal Award; Deutscher Material Preiz; American Eagle Award; CleanTech Cleaning Technology Award.



Web  www.walter.com

Twitter  @waltersurftech

Facebook  Walter

LinkedIn walter-surface-technologies

YouTube TheWalterNetwork



Press Contact

Walter Surface Technologies

Vanessa Angell

Content Marketing Specialist

vangell@walter.com

More from Fluid & Gas Flow Equipment