Stainless Steel Plumbing Kits maximize air knife performance.
Press Release Summary: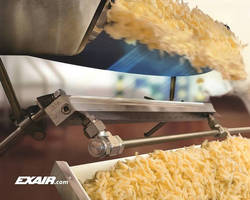 In addition to eliminating poor Stainless Steel Super Air Knife performance stemming from undersized fittings and compressed air supply lines, Stainless Steel Plumbing Kits simplify installation by providing all proper fittings and tube required for hooking up to compressed air supply. Included cut-to-length, type 316 stainless steel pipe and fittings, available in lengths from 24–108 in., exhibit corrosion resistance and durability. Temperature rating is 800°F max.
---
Original Press Release:

Plumbing Kits Maximize Performance, Simplify Installation



EXAIR's new Stainless Steel Plumbing Kits simplify installation of the Stainless Steel Super Air Knife by including all of the proper fittings and tube for hooking up to a compressed air supply. They also eliminate poor performance attributed to undersized fittings and compressed air supply lines. Stainless Steel Plumbing Kits can also be fully assembled and installed on a Super Air Knife at the factory to further reduce unproductive time and effort. Super Air Knives that are 24" or longer must be supplied with compressed air at multiple inlets on the knife. Air Knife Plumbing Kits prevent you from wasting time searching for the right fittings or using undersized air supply lines. You can achieve peak performance and convenience with the confidence of proper installation with these plumbing kits.



Plumbing Kits for the Stainless Steel Super Air Knives include cut to length type 316 stainless steel pipe and fittings. They are available in lengths ranging from 24" (610mm) to 108" (2743mm). PVDF Super Air Knives are also able to use the 316SS Plumbing Kits. EXAIR's Super Air Knife product line is the industry's largest selection of sizes and materials for an efficient way to clean, dry or cool parts, webs or conveyors by delivering a uniform sheet of laminar airflow across the entire length with hard-hitting force. Stainless Steel construction of the Plumbing Kit and the Super Air Knife offers corrosion resistance and durability. It can withstand temperatures up to 800°F (427°C). Prices for Plumbing Kits start at $400.



For more information contact: EXAIR Corporation

11510 Goldcoast Dr.

Cincinnati, OH  45249-1621

Phone: (800) 903-9247

Fax: (513) 671-3363

E-mail: techelp@exair.com

www.exair.com/ssplkit.htm

More from Electronic Components & Devices