Stainless Steel Lashing Cable eliminates kinks, tangles, snags.
Press Release Summary: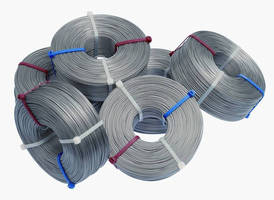 Available in .038, .045, .061, and .065 in. dia, Stainless Steel Lashing Wire comes in 3 grades – Type 430 Stainless, Type 302 Stainless, Type 316 Stainless – can be loaded into cable lashing machines (or spinners) and used to spirally wind (lash) telephone, power, and multi-media cable to supporting messenger strand between utility poles. Uniform fine grain structure is featured throughout entire length and cross section of wire, and while wax coating serves as lubricant.
---
Original Press Release:
Controlled Annealing and Formulated Wire Coating Ensures Smooth Cable Lashing without Kinks, Tangles and Snags
Trevose, PA – General Machine Products Company, Inc. (GMP), Trevose, PA, is pleased to introduce three grades of Stainless Steel Lashing Wire. Stainless Steel Lashing Wire is loaded into cable lashing machines (or spinners) and used to spirally wind or 'lash' telephone, power and multi-media cable to a supporting messenger strand between utility poles.

GMP employs a specially controlled annealing process that produces a uniform, fine grain structure throughout the entire length and cross section of its wire. GMP Stainless Steel Lashing Wire is further enhanced by its unique wax formulation — applying just the correct amount of wax coating on the wire.

The wax coating on lashing wire serves as a lubricant that ensures smooth lashing machine performance. Other suppliers may coat their wire with too much wax, whereby the lashing machine may become "gummed up". Not enough wax on the wire and the lasher will become hard to pull.

GMP Stainless Steel Lashing Wire is available in .038 in. (1.0 mm), .045 in. (1.1 mm), .061 in. (1.5 mm) and .065 in. (1.6 mm) wire diameters. All lashing wire is wound in a straight hub configuration to fit all standard GMP Lashing Machines.

GMP Stainless Steel Lashing Wire grades include:

Type 430 Stainless
GMP's Type 430 Stainless Lashing Wire is made of low carbon, 17% chromium wire. It is suitable for general use and in ordinary atmospheric exposure. Type 430 Stainless acquires only a dark surface stain. And, it is not recommended for use within 25 miles of salt water or industrial operations that emit pollutants.

Type 302 Stainless
GMP's Type 302 Stainless Lashing Wire is made of 18% chromium and 8% nickel analysis wire. This wire has excellent resistance to corrosion from industrial atmospheres. Another benefit of this wire is its higher tensile strength and breaking load. A .038 in. diameter Type 302 wire provides strength equal to a .045 in. Type 430 wire with better ductility (easier bending and unwinding) and better elongation (less chance of wire breakage from stress).

Type 316 Stainless
GMP's Type 316 Stainless Lashing Wire is made of a modified 18-10 analysis containing approximately 2.5% molybdenum. More than any other wire, Type 316 Stainless wire is more resistant to the corrosive action of most chemicals, including chlorides and sulfides. The wire is particularly resistant to pitting and pin hole corrosion of the kind commonly caused by salt spray. Type 316 Stainless provides the best insurance against failure under the most severe atmospheric conditions.

For wire types other than those shown above, please contact GMP.

More information on GMP's Stainless Steel Lashing Wire can be found by visiting the company's website http://gmptools.com/nf/71530.htm, or by contacting General Machine Products Company at 215-357-5500; info@GMPtools.com.

About General Machine Products Company
For nearly 80 years, the General Machine Products Company is recognized as a premier global supplier of a wide range of products for the telecommunications, power utility and cable television industries, and the contractors who serve them. Product applications include the placement of fiber optic, copper conductor, and coaxial cable both aerially and underground.

GMP aerial cable lashing machines, Adams® continuous duty winches and fiber optic cable pullers are accepted as the industry standard. The complete line of GMP's 1,100+ products also includes cable reels and aerial blocks, cable cutters, unique RJ plug pressing tools, fiber optic cable blowing equipment, and other specially-designed tools for the data, telecommunications, and power utility markets.

Our facilities include a 100,000-square-foot manufacturing plant located in Trevose, PA, in suburban Philadelphia, and in Rutland, England (its CBS Products, Ltd. unit). Both facilities are equipped with a full complement of technologically advanced machine tools manned by a welltrained team of craftspeople.

3111 Old Lincoln Hwy.
Trevose, PA 19053 USA 
+1.215.357.5500 
+1.215.357.6216 (Fax) 
info@GMPtools.com 
www.GMPtools.com
Related