Stainless Steel Fume Hoods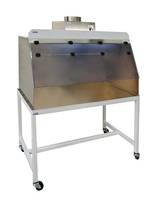 Cleatech Stainless steel fume hoods with duct port fabricated of grade 304 stainless steel with finish number 4. This type of fume hood have good resistance to a wide range of chemicals and excellent moisture and heat resistance. They can be decontaminated and cleaned easily and they are ESD safe suitable for electro static sensitive applications if their body connected to building grounding.
They have static dissipative PVC sash and work surface is removable. Exhaust fan and work surface are optional. Available in 24″, 32″, 36″, 48″, 60″, 72″ sizes.
Ref: https://www.cleatech.com/product-category/fume-hoods/ducted-fume-hoods-stainless-steel/
Cleatech, LLC
221 W. Dyer Rd.
Santa Ana, CA 92707
Phone: 714-754-6668
Contact:
Sam K.
Marketing Engineer
email: info@cleatech.com
More from Electrical Equipment & Systems