Welding Rods, Wire and Electrodes
Stainless Steel Electrode suits high temperature welding.
Press Release Summary: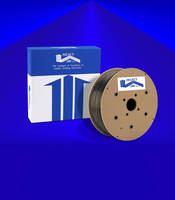 Featuring modified 310 chemistry with nominal composition of 26% chromium, 21% nickel, and 5% manganese, SelectAlloy 310G-C metal cored electrode provides smooth, spray arc transfer with low spatter and little or no slag. Suited for making small butt, lap, and fillet welds on thin material, product is utilized to weld 310, as well as 410 and 430 SS where preheating or post-weld heat treatments are not possible. Electrode is available in .045 and 1/16 in. dia.
---
Original Press Release:

Austenitic Stainless Steel Electrode for High Temperature Welding



January 7, 2009

Fort Loramie, OH - Select-Arc, Inc. has introduced a stainless steel, metal cored electrode designed for welding when elevated temperatures are involved.

SelectAlloy 310G-C has a modified 310 chemistry with a nominal composition of 26% chromium, 21% nickel and 5% manganese. The addition of the manganese in this gas-shielded, metal cored, stainless steel electrode reduces the tendency for hot cracking of this highly austenitic alloy. SelectAlloy 310G-C is well suited to provide a smooth, spray arc transfer with low spatter and little or no slag. This electrode is ideal for making small butt, lap and fillet welds on thin material. It operates at faster travel speeds, handles poor fit-up and offers higher deposition rates and more controlled penetration than the equivalent solid wire.

SelectAlloy 310G-C is utilized to weld 310 stainless steel, as well as 410 and 430 stainless steels when preheating or postweld heat treatments are not possible. This electrode, available in .045" and 1/16" diameters, is used when elevated temperatures are involved such as with equipment for heat treating, chemical and food processing.

For more information on the new SelectAlloy 310G-C, contact Select-Arc at
1-800-341-5215 or visit our website at www.select-arc.com.

Contact: Mike Tecklenburg

Select-Arc, Inc.

Phone: (800) 341-5215

P.O.Box 259

Fax: (888) 511-5217

Fort Loramie, OH 45845-0259

www.select-arc.com

Related