Stainless Steel Damper suits corrosive environments.
Press Release Summary: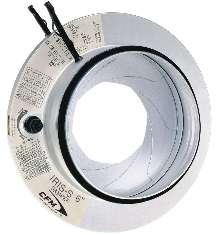 IRIS-S has interlocking AISI 316 stainless steel plates. Calibrated control lever allows blades to form adjustable aperture, permitting airflow regulation and measurement at one location. Damper measures differential pressure across pressure ports and refers to matching performance curve to determine airflow. Offered in 10 sizes from 4-32 in. with capacities to 20,000 cfm, it has neoprene gasket for airtight mounting.
---
Original Press Release:

IRIS-S Stainless Steel Damper


The original Iris Damper just got better! The new IRIS-S Stainless Steel Damper uses interlocking AISI 316 stainless steel plates for those applications where corrosive environments could wreak havoc with conventional airflow measurement devices.

A calibrated control lever allows the blades to form an adjustable aperture, thereby permitting airflow to be regulated and measured at one location. The result is reduced field time and improved accuracy in air balancing. By measuring differential pressure across the pressure ports and referring to the matching performance curve, airflow can be precisely determined.

Ten sizes are available, from 4" to 32", with capacities to 20,000 CFM. The IRIS-S Stainless Steel Damper is fitted with a neoprene gasket for airtight mounting.

Options
1 IRIS Dampers [Galvanized
2 IRIS-M Motorized Dampers [Galvanized, to 12"

Feature
1 Control temperature, humidity, ventilation rate
2 Calibrated for precise airflow measurement
3 Interlocking AISI 316 stainless steel plate construction
4 Available in ten sizes: 4" through 32" diameter
5 Capacities: 15 cfm to 20,000 cfm

Benefits
· Corrosion resistant
· Easy to install
· Measures and controls airflow at one location
· Accurate to +/- 5%
· Retracts fully for duct cleaning
· Compact, quiet & durable
· Airtight construction

The IRIS-S Stainless Steel Iris Damper, another Air Moving Solution from:

CONTINENTAL FAN ......... better AIRFLOW by DESIGN(TM)

For more information contact: Arnie MacLean

More from Agricultural & Farming Products